Your 12-Piece Capsule Wardrobe for Every Holiday Party
Edward Berthelot/Getty Images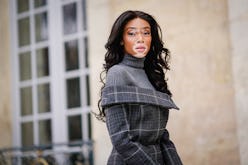 I'm a firm believer in creating a capsule wardrobe for every possible occasion, and that's especially true for the holiday party scene. It's not that I'm a lazy dresser, but when I'm standing in front of my closet, overwhelmed by too many options and feeling the pressure to find the "perfect outfit," I almost invariably end up turning to something basic and safe. And ultimately, I walk out my door feeling unsure of my decision. This time of year can be stressful enough as it is without the added hassle of sifting through everything you own in search of an acceptable ensemble before every event. Curating a thoughtful holiday capsule wardrobe at the start of the season will eliminate the guesswork in getting dressed and give you a go-to selection of party-ready pieces that'll have you covered for any festivity on your end-of-year social calendar.
Practically speaking, you really only need a few styles in your repertoire: a little black dress (preferably one that isn't entirely basic); a festive dress for more glamorous occasions (this is your chance to embrace sparkles and glitz); some kind of top-and-trousers combo; a luxe faux fur coat (to keep you warm without ruining your outfit); a pair of outfit-making pumps; heeled ankle boots; some statement earrings; and an evening bag. You can always expand beyond the minimal essentials by buying a slip dress and a sparkly number, for example, or selecting a classic suit as well as fancy pajama-inspired separates to feature in your rotation — but the idea is to edit down your options to a finite selection that is manageable, versatile, and of course, fashionable. Below, you'll find a starter list of 12 foolproof pieces to inspire your holiday capsule wardrobe this season.
Updated LBD
The little black dress will always be a go-to for cocktail parties and beyond. But this holiday season, eschew the basic shift in favor of a modernized version with more style power.
Party Heels
A good pair of shoes can make an outfit, so when all else fails make sure you have a flashy, fun pair of heels, like bejeweled pumps or embellished mules that you can step out in and feel instantly chic.
Suiting
A tailored suit is equal parts elegant and cool. Plus, its versatility makes it an essential component of your holiday capsule wardrobe. Wear your coordinates together for a sleek statement look, or style the blazer or trousers separately with other pieces for future occasions.
Bustier Top
A varietal of the "going-out top," an elevated bustier lends a little sex appeal to your party style. Wear it belted with a pencil skirt or palazzo pants, or layer it under your suit to take your tailored pieces into more stylized, sensual territory.
Long Slip Dress
A slinky silk slip dress may seem better suited to warmer temperatures, but trust that it belongs in your festive rotation through winter. Choose one that's longer in length and it'll take you from cocktail hour to more formal scenes with ease. Just add an evening coat or a cozy faux fur stole to counter the chill.
Faux Fur Coat
You'll be thankful for a plush faux fur coat when that gust of winter wind blows straight through your flimsy frock. A fuzzy topper checks all the necessary boxes, providing the warmth you need, plus the touch of glamour you want for your holiday ensemble.
Something Sparkly
If not now, when? There is no scene better suited to a little sparkle, shimmer, and shine than the holiday party circuit. Get in the festive spirit with a glitzy cocktail dress or metallic jumpsuit as you celebrate your way from eggnog under the mistletoe to ringing in the new year.
Drawstring Pouch
Carrying a clutch is just plain inconvenient when you're trying to balance a glass of champagne in one hand, the appetizer you snagged off a tray in another, and still shake hands as you mingle, meet, and greet other guests. Instead, opt for a mini drawstring pouch that can hang around your wrist and has all the evening appeal of your favorite minaudière, without the potential for an awkward juggling act.
Fancy PJs
For women who want to be social, but also wish they were at home in their comfiest duds, the fancy pajamas trend is a godsend. Sumptuous silk satin and velvet sleepwear suddenly feels party-ready when you add a pair of statement pumps and an evening bag. And the best part is at the end of the night you can just crash into bed without changing if you really want.
Sleek Booties
For occasions where pumps won't do the trick — or you're simply looking for something with that extra cool-girl factor — you'll need a sleek pair of heeled ankle boots. Whether they're lace-up or sock style, pointy-toed or patent, a luxe bootie is a practical yet fashionable choice you can wear with everything from skirts and dresses to pants.
Rainbow Brites
Scarlet red and forest green get all the attention during this time of year. They're expected and safe, but not necessarily the most fun. Take things up a notch with a full color palette of bright rainbow hues to liven up your holiday look.
Statement Earrings
Every stylish woman knows the effect adding a pair of look-at-me earrings can have on even the simplest ensemble. Keep a pair on hand through the holidays to elevate a last-minute outfit and make it look more planned and put-together. A pair of oversized hoops are always a winner, or try some sparkling chandeliers, or dramatic shoulder-dusters.