3 Ways To Make Your Holiday Outfit Look So Expensive
Olivier Degoulange/Shutterstock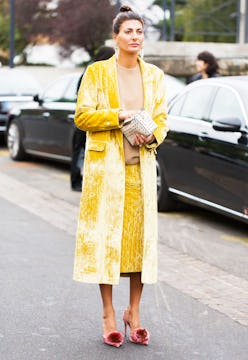 Whether you take a tempered approach to holiday dressing or can't fight the urge to wear sequins head to toe, you can't deny that holiday party outfits require an extra dose of opulence. But there are a couple common sartorial hiccups when it comes to glitzy holiday attire: Spectacular pieces of the designer variety can be pricy, and more budget-friendly items don't always look quite as luxe as you want them too. But don't fret, if you're wondering how to make a holiday outfit look expensive without going overboard, retail buyers, fashion directors, and editors have a few pro tips with high-wattage results.
From velvet to lamé and sequins (so many sequins!), fanciful pieces make it easy to take the simplest of outfits to the next level like a crewneck sweater and jeans or a slip dress and blazer. The key to making an outfit come off as luxe is to pick a particular item as your focal point — a mashup of razzle-dazzle pieces can easily skew inelegant — whether it's a rhinestone-decked bag, glittering drop earring, or shimmering dress. "With so many events happening throughout December in the lead-up to the holidays, I feel the clever approach is to focus on accessories as a means of achieving the kind of impact you're looking for," says Celenie Seidel, market editor at the retailer, Farfetch.
Yes, crystal-adorned pumps and metallic-flecked sweaters offer restrained takes on seasonal shimmer and shine, but for a more unexpected approach, Seidel is in favor of bold, sculptural earrings, nostalgic hair clips like a feminine bow, and modern evening bags in sumptuous velvet. "A rotating series of these smaller pieces mean that, combined with existing ready-to-wear pieces from your wardrobe, you should be able to fully furnish all your event dressing needs," Seidel says. Another directional sidestep is to swap traditional holiday colors for unexpected shades like mustard yellow and lilac. In soft, silky fabrics, they feel equally festive and look elegant as ever.
For a classically festive look, Natalie Kingham, fashion and buying director of MATCHESFASHION.COM champions luscious fabrics like metallic silk and lamé (which she notes as a major Spring/Summer 2019 trend), glamorous accents like a brocade or satin clutch, and distinctive silhouettes such as a one-shoulder dress or asymmetrical hem. "If you're feeling like you want to dance the night away, then there's nothing better than a wide-leg sequin jumpsuit worn with a pair of platform shoes and a simple accessory like a gold bag," she notes. "Perfect for any glamorous occasion."
For a low-key take on holiday dressing — which is perfect for those looking to dress up jeans or leggings — Kingham says to "accessorize with hair clips for an elevated, super-chic look and make sure you have a fabulous bag and shoes!"
When a cocktail dress is a must, Barneys New York fashion director Marina Larroudé says that the best and most luxe-looking styles are all about fit. "You want to look cool and age appropriate, it's not about looking expensive. You can look your best and very polished wearing outfits that suit your body and represents your true self." Larroudé's top picks include wrap silhouettes, glittering mini and midi dresses, and sleek fabrics with sheen.