Sienna Miller Nailed Courtside Fashion At Wimbledon 2019
Amy Sussman/Getty Images Entertainment/Getty Images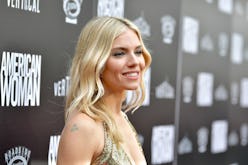 Wimbledon is almost as much of a fashion parade as it is a tennis tournament these days. Everyone from big-screen celebrities to fashion editors to royalty clear their schedules for this major-league sporting event (whose most frequent champion is coincidentally a designer, herself). Ahead, all the best looks from Wimbledon 2019, including a couple duchesses and perhaps the most influential of them all, Anna Wintour.
Every summer, the poshest of the celebrity crop gather at the All England Club in London to watch the top tennis players in the world compete for that coveted gold cup. The sport, itself, has a reputation for enforcing a strict dress code, and not just for players, but for guests as well.
While ties were once a standard accessory for men in the member's area, the clothing requirements have relaxed in recent years. Still, though, Meghan Markle's jeans moment at this year's tournament caused a stir.
Courtside etiquette encourages demure dresses for women and suit jackets for men, which most guests staunchly adhere to. Nobody wants to receive a scoff from the Wimbledon fashion police, after all.
See what the notable attendees — including Pippa Middleton, Claire Foy, Sienna Miller, and more — arrived in this year.