Gigi Hadid Just Walked At NYFW Wearing A $7 Product You Probably Use Every Day
Slaven Vlasic/Getty Images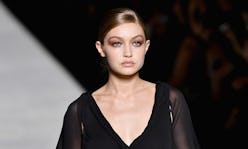 The very second that New York Fashion Week rolls around, I prepare for the inevitable dent that'll hit my bank account. Between the rise in see-now-buy-now shows and the incredibly inspiring street style, shopping is a given during fashion's busiest week. Needless to say, when I discovered Gigi Hadid's runway makeup at Tom Ford was created with a $7 drugstore staple (one I already own), I breathed a massive sigh of relief.
Backstage at Tom Ford, models including Hadid, Kaia Gerber, and Joan Smalls were given 1970s-inspired smoky eyes with muted, chocolate browns and soft, golden highlights. Eyes were painted with a smattering of Tom Ford products, including the cult-favorite Eye Quad and the super-rich Eye Kohl Intense. But as a final step, makeup artist Diane Kendal reached for a tube of Rosebud Salve to give the models' lids a subtle, glossy finish.
Yes — Kendal used that Rosebud Salve, the cult-favorite lip balm that everyone and their mother has come to love. "It breaks it up and diffuses it a bit," Kendall told The Cut backstage as she blended the salve with the models' intricate eyeshadow.
Dabbing lip balm across your eyelids sounds easy enough, but before I grabbed my salve and attempted to recreate Hadid's look, I went to Dr. Hicks-Graham, dermatologist and founder of LivSo hair care, to make sure the technique was safe for everyday use.
"Generally, I don't see Rosebud Salve as much more than a rich emollient with a smooth finish," Dr. Hicks-Graham tells The Zoe Report over email. "The cottonseed oil is rich in linoleic acid and can help with nourishing and protecting the skin and hair. But the essential oils and botanics may be a bit more complicated."
Although Dr. Hicks-Graham says Rosebud Salve is safe for most skin types, those with sensitive skin should test the formula with caution. "For most people, use of this product would be fine as long as it doesn't get into the eye itself. However, if an individual finds themselves with irritation or swelling of the skin, it could be because of a sensitivity to an essential oil or botanical," she says.
Get The Look
"The eyelid skin is very thin and is notorious for being extremely sensitive for many individuals, especially those who are eczema prone. Applying this product is fairly low-risk for a glossy shine on the lids, but be aware that it could cause an irritant or allergic contact dermatitis in a susceptible person," she adds.
Have sensitive skin? Don't worry, you've got options if you want to try Hadid's look. Those with irritable skin should swap Rosebud Salve with a plain, white petroleum like Vaseline for the same effect, says Dr. Hicks-Graham. When trying new products, it's important to make sure you're experimenting with formulas that will agree with your skin type. "Red, swollen lids wouldn't be a good look on the runway," Dr. Hicks-Graham jokes.
Whether you grab your Rosebud Salve from the bottom of your purse or you head to the drugstore for a tube of Vaseline, recreating Hadid's glossy smoky eye is an easy way to get in on the New York Fashion Week Madness — one that will actually appease your wallet.