This Under-The-Radar Engagement Ring Trend Will Take Off In 2020
Max Mumby/Indigo/Getty Images Entertainment/Getty Images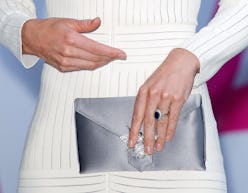 Between November and February, your focus is likely on practical fashion — think cozy sweaters and snow boots. But for a slew of lucky-in-love couples, this time of year also marks prime engagement season, which typically means diamonds are on the mind for both the super-committed and those who just like to shop. But in 2020, colorful stones and non-diamond engagement rings will have a major moment thanks to a growing appreciation for the anti-traditional: unexpected orientations, asymmetrical designs and, in many cases, more approachable price tags.
"I think it's about outgrowing this idea that your engagement ring is a financial asset," explains Kate Jones designer of New York City-based jewelry brand Ursa Major. "It should be more about loving it for the beauty and meaning of the piece ... the emotional value." Couples who are thinking beyond the traditional diamond solitaire arrive at their ideal style for a range of reasons — many of which reflect the changing cultural perceptions around engagement ring shopping.
"[Some customers] come to the decision from a humanitarian or philosophical standpoint of not wanting a diamond," offers Jane Taylor, designer of her eponymous line of modern heirloom jewelry. "Others want to embrace their own personal sense of style." Couples looking for more personalization like the wide breadth of options created by unusual color and stone combinations. In fact, over the coming year designers predict a continued rise in non-diamond engagement rings that incorporate playful trends like atypical settings, bi-color or two-toned precious gems, and asymmetrical cuts designed to elevate classic stones for a more modern look.
Before settling on a gem of choice for yourself, there are a few notes to consider when opting for a non-diamond ring. First, keep in mind that diamonds are a popular choice not just for their sparkle, but also because of their durability. Precious and semi-precious gemstones can rate lower than diamonds on the Mohs scale (a measure of mineral hardness) which can lead to chipping and breaking — neither of which are ideal for a ring you plan to wear every day.
Be sure to figure out how much durability you need and do your research before settling. "I love sapphires," says fine jewelry designer Selin Kent. "Not only are they hard, they come in a wide range of colors, including peach, purple, yellow, blue, teal and pretty much anything in between." Rubies (which are rated nine compared to a diamond's 10 on the Mohs scale) are also a durable option, according to jewelry designer Ashley Zhang. The fiery red color will stand the test of time and set your wedding suite out from a sea of clear stones.
Designers suggest using caution with more porous stones like emeralds and opals which, though mesmerizing in color, won't hold up as well for everyday wear due to natural fractures and inclusions. If you are hell bent on an emerald for your engagement (or are repurposing an old stone), Kent suggests to have it bezel or halo set in order to protect it from exposure.
If you're planning on doing any ring shopping as you head in to 2020, take a look at the on-trend options below. While a few bands combine color with traditional diamonds, others let rich gemstones shine on their own. Either way, the rising popularity of this new wave of engagement rings may convince you to mix things up with a design that's both original and eye-catching, just like you.