How Utilitarian Camo Print Print Became Fashion's Next Big Obsession
Dan Kitwood/Getty Images Entertainment/Getty Images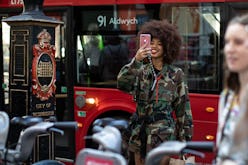 Earlier this year, Miu Miu sent models down the runway wearing a slew of camo printed hoodies, capes, chunky boots and sturdy purses at Paris Fashion Week for the brand's Fall/Winter 2019 collection. Designer Miuccia Prada showed the storied print on capes which seemed to be a salute to camouflage's history of symbolizing both protection and rebellion at once. But Miu Miu isn't the only label that has embraced camouflage as a fashion trend for fall 2019.
A sweeping range of brands including Valentino, Sandy Liang, Shrimps, and R13 all put the print on full display for their Fall/Winter 2019 collections. In addition to this, more affordable trend-focused labels such as Pam & Gela, State, Wildfox, and even Beyond Yoga have all recently released their own iterations of camouflage fashion. The final indicator: Zara too is now stocking everything from ripped jeans with the print to cropped camo jackets.
But why is camo a thing again now? It might have to do with its utilitarian roots and a second-coming of '80s and '90s style inspiration. Camo, by definition, is a form of armor. Its purpose is to hide and conceal — which might actually also have to do with the fact that the modest, comfortable fashion movement has reached a peak, with trendy brands like Batsheva specializing in longer dresses that conceal. Camo, is an extension of that, figuratively. Billie Eilish even spoke out about wearing baggy clothes as a form of protection.
One of the first times camo entered the world of fashion was around the time of World War II when Town & Country magazine cover which showed a model wearing a camo print shirtdress against a camo print background, according to Emma McClendon, associate curator of costume at The Museum at FIT. Another key period in the history of camo and fashion is the '60s counterculture movement. "Back then, hippies purchased camo fatigues from Army Navy surplus stores and wore them as symbols of resistance to protest against the war effort," says McClendon. This repositioned camo as a print that represented a youthful and rebellious spirit , which was then continued by the punk movement, hip hop, and various street style movements later in the 20th century.
The other reason why camo may be having a major moment in fashion? It goes back to the aforementioned youth cultures who donned the look. Many of the young designers who are using camo right now grew up during the '80s and '90s, when the print was co-opted to have its own meaning and resurgence. Think: Destiny's child decked out in camouflage overalls, crop tops and mini dresses for their iconic Survivor video.
For Sandy Liang, who may be best known for her signature fleece jackets and quirky takes on everyday wardrobe staples — like tulle trimmed puffers or dresses made out of anorak jacket material — the designer drew on on influences from her childhood using camo print on mesh and neon trimmed fleeces for fall 2019. "Camo feels neutral to me, the way a leopard print can feel neutral," she explains. "I tend to always draw inspiration from my personal experience, so I thought about the way I saw camo instyle growing up in the 90s."
Similarly, the streetwear line HUF recently collaborated with the ultimate '90s kid fashion item: the JanSport backpack, in none other than the iconic camouflage print. The print has been a part of HUF's collections for the past 15 years. "I think one of the main reasons it's become such a source of inspiration to us is because it's a throwback to the fashion we knew growing up," says creative director Romeo Tanghal. "It was a staple in skate and hip-hop videos from the late '80s through '90s and it goes back to the time when we were shopping at Army Surplus stores and finding something that was aesthetically cool, rugged, durable, and inexpensive and re-appropriating it."
Today's camouflage fashion is decidedly different than the pieces of the past however. Not just aesthetically, but also, because of how the humble print has been reinterpreted. "The irony is that camouflage is intended to conceal but has been re-appropriated to act as a fashion statement seen in streetwear and runway fashion," explains Lisa Aiken, Moda Operandi's Fashion Director, who brought all of Miu Miu's fall 2019 camo pieces to the e-commerce trunk show site. "Utility dressing blends fashion and functionality. Part of the appeal of the print is that it is easy to wear and versatile. It is a form of power dressing. With masculine undertones, it has a commanding presence to empower the wearer."
Likewise, for his spring 2020 collection, emerging menswear designer Reese Cooper (a 2019 CFDA/Vogue Fashion Fund Finalist) wanted to release a new version of camo more fitting for our times. "I've always appreciated how simple and recognizable the print is, but how it can still make such an impact visually," explained Cooper. "I personally wear a lot of camo print and I've been wanting to find a special way to develop it into something new and put my own stamp on it." Thus, he created a more muted and soft version of camouflage using watercolors on paper, which he then translated to fabrics and leathers. "It's more versatile than some of the typically bold, loud variations of camo that are more commonplace."
The grunge inspired label R13 also showed army print blazers, biker shorts, coats and skinny trousers for resort 2020. Designer Chris Leba explained, "My vision was inspired by the '80s rock band, The Clash. They represent a way to mix military surplus and Western influences, which I specifically saw intermixed in their music video for Rock the Casbah." Leba also utilized M65 jackets in his latest collection, a style that was initially designed for the US military. To make it modern, he added a leather fringe.
Interestingly, camouflage has always had a duality to its meaning when it comes to fashion. That could be why designers now more than ever are experimenting with it. "Camouflage was originally a military print. But there have been a couple of key periods when camo printed textiles have appeared outside the military which have affected the print's cultural meaning," adds McClendon.