The Wait Is Over — Reformation's Inclusive Sizing Collection Is Finally Here To Stay
Courtesy of Reformation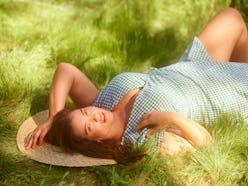 It used to be that one of two requests appeared when you scrolled through Reformation's Instagram comments: Either fans wanted the wildly popular sustainable clothing brand to restock sold-out styles ASAP, or they wanted an evergreen size-inclusive collection by yesterday. Thankfully, now you'll only ever see fans pining for restocks. Reformation's inclusive sizing collection launched March 28, so summer can officially start any time it'd like.
"My biggest dream is to bring sustainable fashion to everyone, so size inclusivity has always been important to us at Reformation. We want all women to be able to wear our clothes and feel good doing it," Reformation's founder and CEO Yael Aflalo said in a press email. "With that goal in mind, we're super happy to now offer a bunch of our most popular styles permanently in extended sizing."
That means you'll be able to buy signature Reformation styles — including everyone's favorite summery, feminine wrap dresses — in sizes 1x through 3x and 14 through 24. Reformation's fans (aka "Ref Babes") will remember that this isn't the first time the brand has released size-inclusive pieces, too; Reformation has been inching closer to a permanent collection since 2018, when it released a size-inclusive capsule collection and an extended sizing denim collection. And while the brand announced in November that this evergreen collection would land in early 2019 (and kept its promise, as it turns out) — it probably couldn't have come a day sooner for fans.
Although the new size-inclusive collection doesn't cover Reformation's entire catalog, it is still varied; fans will be able to add a little Ref Babe style to basically any part of their closet, and find something on Reformation's site for any occasion. Certain pieces will quickly become staples, like Reformation's Bardot Top for $48 — the simple, yet well-constructed black top would go with anything. For the formal occasions, there's the $278 Winslow Dress, a dreamy wrap dress made from lightweight viscose.
However, Reformation shines brightest when it comes to date-night chic — those fitted, flirty pieces you slip on when you want all eyes on you. Just keep scrolling down to see that for yourself; a handful of pieces from Reformation's new extended sizes collection are below.