Where To Get The Best Deals On Le Creuset Before The Real Holiday Cooking Starts
Nordstrom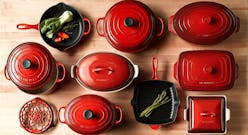 You found your favorite Pinterest holiday dinner recipes, made your shopping list, checked it twice, and now all that's left is discovering where to buy Le Creuset on sale. Serving a dish in Le Creuset's luxury cookware turns an entrée into an event; the rich, bold colors and clean white interiors elevate meals into food magazine photoshoots.
Expert home chefs and box macaroni and cheese connoisseurs alike will be thrilled to know that some of the best deals on Le Creuset this season are happening at four stores: Macy's, Nordstrom, Sur La Table, and Williams Sonoma. The discounts are steep, the Le Creuset selection is wide, and the enamel colors are popping. Ready to have the prettiest Christmas dinner ever — and the most fun cooking you've ever had before a big party? Scroll on to explore pieces from each store's Le Creuset sales before they end.
While some of the Le Creuset deals at Macy's are on until Jan. 1, 2019, the price details on other pieces show that they'll only be on sale until Dec. 23, 2018. Keep an eye on each piece's price details to see if you can wait until after you open all your Christmas presents.
Not all of Nordstrom's Le Creuset pieces are on sale — and there are no details saying when sale prices will end — but there are colorful finds to be had.
Sur La Table's sale on Le Creuset includes discounts up to 50 percent off the original prices. Use promo code SHIPFREE when checking out on a purchase over $59 to unlock free shipping as well.
Last but not least, Williams Sonoma has deals on Le Creuset from three different angles. The store is running a 25 percent off cookware event, a sale on Le Creuset favorites featuring prices up to 55 percent off, and a limited time sale of 20 percent off Le Creuset Palm pieces.