Where Is Alicia Silverstone Now? The Actress Talks About The Health Move That Changed Her Life
Courtesy of mykind Organics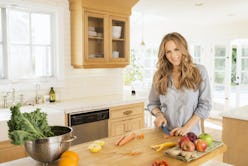 "This is an Alaïa!" With one phrase and one movie, a lovable, fictional girl by the name of Cher Horowitz became the object of everyone's most stylish dreams (and offered a worthy lesson in high fashion). And while Clueless and its carefree, unforgettable protagonist will forever live on in the hearts of '90s kids everywhere, the film's star, Alicia Silverstone, now lives a life that is quite a departure from Horowitz's shopping spree-filled days.
In the 23 years since the cult movie first debuted, Silverstone has continued to pursue acting, but has also paved quite the atypical Hollywood life for herself — and it's quite refreshing. For starters, she keeps a relatively low profile. She's also become known for her avid activism for human rights, health and wellness, and animals.
In 1998, Silverstone became a vegan ... and never looked back. "I adopted this diet for the animals, but the biggest surprise was how amazing I felt," says the actress, who recently sat down with The Zoe Report to discuss her new line of herbal supplements with mykind Organics (more about that later). "I ditched my asthma inhaler, stopped my weekly allergy shots, and had a new glow from my skin and hair. I felt incredible from having more energy and balanced out moods. This way of eating transformed me."
In fact, this transformation was so intense it became a way of life, and even inspired Silverstone to create a cookbook, The Kind Diet, in an effort to help everyone reap the same rewards. "The health benefits are truly immense physically, mentally, and spiritually — softening your heart and spirit," she explains. "Eating a plant-based diet is a surefire way to help heal and nourish your body ... My book is a delicious resource to learn more about this way and build beauty from within."
Silverstone's plant-based passion took on a whole new meaning when she gave birth to her son Bear in 2011. This was when, she says, she first fell in love with supplements. "In order to grow the healthiest little human possible, I was already feeding my body all the clean, nutrition-packed foods that had transformed my health years ago," she says. "But because these babies can be little nutrition vampires — and because some days were not all sunshine and kale — I wanted to have peace of mind that I was getting every health-supporting vitamin and mineral that my body needed during this special time."
She then embarked on a quest to find the "cleanest prenatal vitamin possible, ideally one that was aligned with the way I eat: organic, non-GMO, completely plant-based, and free of funky processed junk." The issue was that the ideal vitamin of her dreams didn't exist. So, naturally, she got to work. "I went looking for a partner — the stars aligned with Garden of Life — and I co-founded mykind Organics," says Silverstone. "Together, we created an entirely new kind of vitamin line that is Certified USDA Organic, Non-GMO Project Verified, and free of synthetic binders and fillers." And, just last month, Silverstone celebrated spinoff collection mykind Organics Herbals, the first dual-certified USDA Organic Non-GMO Project Verified line of herbal supplements.
So what does one do after they've successfully established themselves in the film and wellness industries? According to Silverstone, whatever they want. "There is no shortage of areas I'm interested in," she says. "I am a huge foodie, so writing another cookbook that shares my favorite insanely delicious plant-based recipes is something that's at the top of my list,"
Acting is also still on that list, to the delight of Cher Horowitz fans everywhere. Most recently, the actress has tackled both the small and big screen with her most recent projects, Paramount Network's TV series American Woman and motion picture Book Club with Diane Keaton, Jane Fonda, and Candice Bergen.
"I'm grateful that Clueless spoke to so many people and that it continues to influence and connect with generation after generation," says Silverstone. "I feel so proud! To this day, I'm having so much fun working on so many great projects … Over the last decade I've done so much theater work and am so thrilled that the film and TV roles I'm working on recently feel just as juicy and vibrant as the live stage."