Everything We Know About Sephora's Black Friday Sale
SOPA Images/LightRocket/Getty Images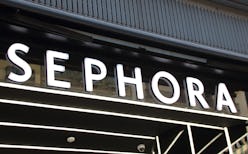 There's a single question on the lips of beauty shoppers everywhere once the end of November rolls around: When does Sephora's Black Friday sale start? And if you, too, have been wondering, then keep on reading. Because in case you didn't know, the beauty store's epic sale has already begun.
Yes, really. According to a sneak peek posted by an admin on the Sephora Community's Conversations page (and reported on by Allure), the Sephora Cyber Week Hot Deals 2019 event officially kicked off Nov. 25. The Cyber Week event will offer major discounts on select Sephora products for one whole week — with different deals happening on different days — and will finish up on Dec. 2. And those that prefer to plan ahead of time have the opportunity to strategize: All of the Cyber Week Hot Deals are detailed online, so the chances of accidentally buying a new mascara twice are slim (unless you're into that sort of thing).
And speaking of mascara. For Nov. 26, the two Cyber Week Hot Deals involve Lancôme's Monsieur Big Mascara and the Sephora Collection's Metallic Pigment Palette. Both deals are pretty impressive, too: The Monsieur Big Mascara is marked down to $12.50 from $25.00, while the palette is on sale for $14 (half off its original $28 price).
Make sure you download the Sephora app, too, to sneak a peek at even more upcoming discounts from the store. If you search "Black Friday" on the Sephora app you'll find additional Black Friday Preview discounts for $15 and under that are as impressive as its Cyber Week Hot Deals — like First Aid Beauty's $40 Limited Edition Ultra Repair Cream Intense Hydration marked down to $15, or the $29 Living Proof Perfect Hair Day Body Builder on sale for $15.
And between scrolling the app, shopping online, and any in-person browsing you do at Sephora this week, you should be set on beauty products — at least until 2020 arrives.