Everything You Need To Know About Sephora's Black Friday 2018 Sale
Fenty Beauty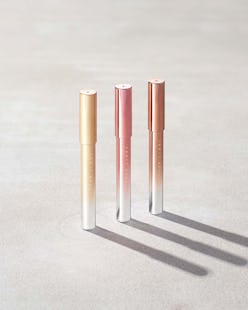 It's the most wonderful time of the year: Black Friday season. And as every die-hard beauty lover knows, Sephora always has some of the very best offerings. Seasoned Beauty Insiders know that Black Friday is not an occasion for casual scrolling or window shopping, though. The annual post-Thanksgiving blowout requires strategy: Knowing exactly when Sephora's Black Friday starts, what products you're adding-to-cart, and how much you're willing to spend in order to save. It's basically a high-impact sport (except the impact is on your wallet).
Luckily, Sephora is making it easier than ever to plan your shopping lists in advance. Starting Thursday, Nov. 15 — more than a week before Black Friday officially hits — the beauty giant is offering a preview of its Black Friday deals to anyone who downloads the app (which you'll want to do ASAP here).
According to beauty new Instagram account @hotfire.makeup (and heard through Allure), the deals include several prestige brands marked down less than $20; like a $15 Pat McGrath Labs Mini Mattetrance Lipstick in Shade 013 Elson (the full size is normally $38) and the Peter Thomas Roth Hyaluronic Happy Hour two-piece set for $15 (down from $22).
But the real fun starts on Friday, Nov. 16. Starting then, all Sephora Beauty Insiders can take 15 perfect off their entire purchase site- and store-wide, per Real Simple. Considering that this discount applies to brands that are rarely discounted, like Fenty Beauty and Drunk Elephant skincare, this is a huge, huge deal. (Reminder: Anyone can sign up to start a free Beauty Insider account — so maybe go do that, like, now.)
Traditionally, Sephora rolls out larger discounts in a tiered system: VIB Rouge members (aka, customers who have spent $1000 or more at Sephora within a calendar year) get access first, and Insider VIB members (those who have spent at least $350 within the year) are granted entry to the sale after that. Beauty Insiders follow, and then the sale is finally open to the general public. While there's no official word from the retailer on when access begins for top-tier members, it's been reported by Stylecaster that those with VIB and VIB Rouge status should check Sephora's official Black Friday page first thing on Wednesday, Nov. 21 for updates.
If Sephora's previous holiday sales are any indication, though, it's likely that the brand will offer its marked down prices to the public on Thanksgiving Day (Nov. 22). There are also rumors that many of Sephora's brick and mortar locations will be open from 6pm to midnight on Turkey Day, if you're more into the whole shopping-in-person thing.
The sale will be in full-swing by Black Friday (Nov. 23), although there is no confirmation on how long the discounts will last. But since you're a pro shopper, every item on your Sephora Black Friday shopping list will already be crossed off and en route by then, right?
If you just can't wait to shop, Sephora already has some major Black Friday deals available on its site in the $15 & Under, $25 & Under, and $50 & Under categories. Ahead, scoop up the season's best before the sale starts.
Under $15
Under $25
Under $50