Getting A Proper Bra Fitting Changed My Life — Here's What I Learned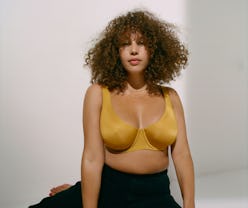 When I confirmed my first-ever bra fitting appointment a few weeks ago, I was anxious at best — terrified at worst. I was embarrassed about the fact that, at 27 years old, I knew so little about what to look for in a garment I'd been wearing for well over a decade. I was embarrassed not to know my correct bra size and by the fact that I'd recently completely given up traditional bras all together in favor of sports bra-like bralettes that eschewed the whole band and cup size issue. I didn't know what to expect, and I was worried I wouldn't have all of the answers to whatever questions I would presumably be asked about my own body.
But my nerves were unfounded. I'd forgotten the fact that a proper bra fitting would be facilitated by an expert — someone whose actual job it was to know all of the things I didn't. In my case, at the offices of lingerie brand CUUP in the SoHo neighborhood of Manhattan, I was guided through my session by one of the brand's in-house fit therapists.
She asked me about what kind of bras I wore, what brands I bought them from, and what my biggest woes were: Do my straps dig into my shoulders? Do I have spillage in the cups? Is the band too tight on my back? Yes, yes, yes. Throughout the fitting, my fit therapist outlined the bigger picture of how bras should fit, explaining why it's normal to not be one universal size across brands. Once I was measured, and my measurements recorded, I tried on a range of different styles in my actual size, and ended up leaving with what I vow will be my new go-to, everyday bra.
To say I learned a lot in my 30-minute appointment would be a severe understatement. From discovering that I'm not actually a D cup — as if the fact that my bras didn't fit wasn't an early clue — to why underwire isn't actually the enemy, and what to look for when bra shopping without a professional walking me through the experience, it became clear to me just how much misinformation is floating around about shopping the category.
So, to clear things up for those who might not have the time, access or resources to get a bra fitting, I spoke to the experts to deliver the same myth-busting, knowledge boosting experience I received during my appointment. Read on as they set the record straight on how to make sure you get a perfect fit — every time, anywhere.
What Are The Most Common Misconceptions?
According to Tania Garcia, CUUP's in-house fit therapist, one of the most commonly believed myths about bras is that wearing underwire is unhealthy for breasts, and can even affect shape and firmness. "When a bra with an underwire feels uncomfortable, it is because the person is wearing the wrong bra size," Garcia says. "The mistakes folks make is going bigger in the band when the cups aren't fitting quite right. For example someone who is a 32DD/E who is spilling out of the cups will size up in band size to a 34DD/E or even a 36DD/E instead of going up to an F, G, or H for more cup space. This is partly due to the lack of knowledge, availability, awareness of bigger cup sizes." If you're experiencing excess spillage, it's safe to assume the cups are where you need to be directing your attention.
What's The Work-Around For Inconsistent Sizing?
Issues with consistent sizing aren't unique to bras — hello vanity sizing! — but it is a huge problem within the category. It not only leads to faulty statistics, like the one stating 80 percent of women are buying the wrong bra size, when that's not entirely true or fact-based on a grand scale.
It's easy, and historically popular, to assume that if you're of small build with a smaller chest, you're an A cup. Similarly, if you're of a broader stature with a larger chest, the default assumption is always that you're somewhere in the D-DD cup range. (I myself fell in the later category, only to discover that in CUUP's sizing, I'm a G cup.)
"Fit knowledge has been assumed due to the lack of sizing options offered historically," says Abby Morgan, CUUP co-founder and CMO. "Most bra companies carried between 12 to 16 sizes when there are roughly 65 sizes a women can be. Since its difficult to offer 65 sizes, we've been conditioned to only see the variance in cup size versus band." It's because of this that the CUUP team routinely has customers leaving a fitting wearing a different size than they came in with.
The best way to power through this roadblock? Garcia suggests knowing and trusting what the right fit feels like not only for your body, but also what silhouette works best for your shape. Most importantly, you shouldn't be afraid to try and ask for different sizes. "A lot of the times it is going through a bit of trial and error in the fitting room before you find the right fit," she adds.
How Do You Find The Right Fit?
So, you know what doesn't work — how do you narrow in on what does? According to Garcia, you'll want to start with the band, as it provides most of the bra's support. "The band should lay straight around your body, beneath your shoulder blades, and fit snug enough on the loosest hook setting. The center gore (the small centerpiece connecting the bra cups) should lay flat against your sternum without sticking out or digging in." As for the cups, the right bra will hold all of your breast tissue, meaning there shouldn't be any "spillage" out of the cups, or any excessive gapping or wrinkling either.
For straps, Garcia explains that they should always stay in place, but it may take some adjusting. "One side might need more than the other — your boobs are sisters not twins," she says. "Similarly, one very important thing to always consider is that almost everyone has one breast that's bigger than the other. For our ladies who have a big difference between cups, we recommend accommodating your larger side as it can be super uncomfortable and unflattering to have the bra cutting in."
What's The Best Way To Care For New Bras?
When you've found the perfect bra, your only job moving forward is making sure it stays in good shape and doesn't lose its luster. According to Garcia, one should typically have three to five bras in rotation — not including strapless and sports bra styles. "Depending on how often you're wearing and rotating, your bras should last you anywhere between nine months to a just over a year."
Keep all of the above in mind the next time your bra shopping, and maybe, just maybe, the days of ill-fitting, jabbing and relentless lingerie will be a thing of the distant past. We can only hope, no?