These Lingerie Trends Will Be Everywhere This Fall, According To Experts
@araksofficial On Instagram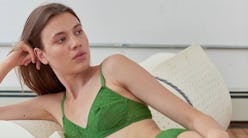 A person's relationship with their intimates drawer can be quite fickle. Maybe you're like so many others out there who struggle with finding the right fit, cut, and fabric to cozy up to. Shopping for bras and underwear is similar to finding the perfect pair of jeans or swimsuit: It doesn't usually come easy. So, perhaps right now you're searching for new lingerie for the fall 2019 season — options that make you feel confident and comfortable. Naturally, the first step is determining your correct cup size once and for all. Once that is done, clear out your tattered years-old bras and underwear. You deserve better.
This year, designers across the board are adopting new and novel concepts while still returning to the female form as the source of primary inspiration. This manifests itself in the introduction of tech-forward fabrics that work for the full range of breast sizes and shapes. But, there are also less technical aspects to look out for too. Splashy color trends, vintage-inspired silhouettes, and even the revival of a '90s underwear brief are all part of the plan for the industry's coolest designers. Continue ahead to hear firsthand from your favorite lingerie brands on what trends to consider and more importantly, what to buy.
Vintage Inspired
Is it odd to say that nostalgia is having a moment? Style across the board is finding ways to creatively reference the past and that extends to what's underneath your clothing. "For me, this is a trend that you can refer to each season," Le Petit Trou designer Zuzanna Kuczyńska tells TZR. "The 90's or 30's are a constant inspiration. Timeless tones are black and nude that you can always find in our collection."
Bombshell Bodysuits
When you think of lingerie you likely reach for bras and underwear, but don't forget about the one-piece too quickly. "Bodysuits are a trend we never fall out of love with," Lonely Co-founder and Designer Helene Morris tells TZR. "This season we have two with a leg line that captures our love of the 90's era we grew up in."
Strategic Support
Lingerie trends don't necessarily have to take shape in ultra-bright colors or bow-bedecked details; sometimes the subtler approach can still feel fresh. "We're really excited about the trend of women embracing their natural [breast] shape," CUUP's Co-Founder and CMO, Abby Morgan tells TZR. "We pride ourselves in having a line of totally unlined bras that are beautiful, supportive and don't push women into a shape that isn't their own. Many women haven't actually been able to embrace this trend, as it's mostly found in bralettes, which generally don't offer enough support for women who are D-cup and above, which is two-thirds of American women."
Form Meets Function
Lingerie tends to have an alluring connotation but, your intimates also need to work for the everyday. "It is important to invest in lingerie that balances sexiness and dual functionality," Kiki De Montparnasse Global Communications and VIP manager Leigh Fidler tells TZR. "In prepping our lingerie drawer for fall, we are all about wanting pieces that emphasize the female form rather than constructing it. We love pieces that can be subtly or not so subtly featured in our outfits, be it under a classic blazer or a lace camisole."
Western Americana
Anyone who love fashion lives for a theme, right? For lingerie label Love Stories, it's all about the cowgirl this season. "These new designs for winter 2019, were inspired by our cowgirl muse, who spends her days on the prairie and nights by the fireplace," Founder and Creative Director Marloes Hoedeman tells TZR. "It's a laidback mix and match affair of prints, patterns, and materials, all with a touch of Western Americana. Have fun with it, anything goes!"
Tech-Forward Fabrics
Anyone who has larger breasts knows the struggle that comes with finding a supportive bra. "The technology is now available to create stylish, comfortable and lightweight garments that also offer fantastic support. Busty girls no longer need hot, heavy-duty pads, micros, and straps in order to achieve their desired fit and shape," Le Mystere Vice President Jessica Pfister tells TZR. "Fabric mills are now able to knit incredible microfibers, meshes, and laces that are beautiful and have a super soft hand feel but are also incredibly supportive."
'90s String Bikinis
Will the '90s ever not be a fashion decade worth repeating? "'90s string bikini styles have made a big comeback and we're here for it," Fleur Du Mal Founder Jennifer Zuccarini tells TZR. Other silhouettes from the decade that are cropping up? Slip dressing. "We're seeing a lot of slip skirts, short and long, mixed with sweaters and sweatshirts for fall."
Natural Silhouettes
It seems the mood across the board is kicking pads and lining to the curb; such is the case for Botanica Workshop. "We love the trend of natural silhouettes in luxury fabrics, without pads or wire for shaping," Founder Misa Miyagawa tells TZR. "The undergarments feel more like a part of the wearer's total look, one complete idea, rather than part of a separate category, underwear versus ready to wear)."
Sustainably Chic
Sustainable fashion is an ongoing industry conversation and certainly extends to your lingerie. "A big trend we're seeing for fall is sustainable but make it sexy," Cosabella's Shanon Kogler tells TZR. "Both collections are romantic and environmentally friendly, made with recycled yarns and nylon with trims that are remainders from our main production, which [we] otherwise would have disposed of."
Go Green
Green in all its glorious, sometimes off-kilter forms like pistachio and slime are no longer reserved for only ready-to-wear. "I have never seen a color across several styles sell this fast," Designer Araks Yeramyan tells TZR with regards to her namesake label's collection of green intimates. "As soon as we launched it, we had to restock it."
The Natural Female Shape
If you're partial to a bralette, then you'll be glad to know there is an abundance of options for you this autumn. "Our favorite lingerie for fall embraces the natural, female shape," Eberjey Co-founder and Creative Director Ali Mejia tells TZR. "More and more women are converting to wireless, soft-cup bralettes, which offer all-day comfort."
Bralettes For All
Speaking of bralettes, a common complaint about the style is its lack of support. But some brands are seeking to dispel the notion that you can only wear them if your breast size is on the smaller side. "Bralettes are continuing to have their moment and we're able to offer this trend to women of all sizes, up to a 44H cup," Parfait Brand Marketing Specialist Amandine Taylor tells TZR.
Warm Hues
Another nod to autumnal style is switching over to a warmer color palette. "I love a rich red base," Marks & Spencer head of lingerie design Soozie Jenkinson tells TZR.