Here's When You'll Be Able To Start Shopping Lady Gaga's New Beauty Brand (Because Yes, It's Happening)
Haus Laboratories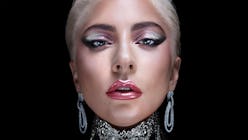 "When I was young, I never felt beautiful," began Lady Gaga on her official Instagram account July 9. "And as I struggled to find a sense of both inner and outer beauty, I discovered the power of makeup." The emotional post — which features a glamorous portrait of the musician staring straight into the camera — coincided with a video announcement splashed across her social media pages: Lady Gaga's beauty brand, Haus Laboratories, is officially on its way.
But it's not quite here yet. Haus Laboratories will be available for pre-order July 15, with Business of Fashion reporting that Gaga's beauty brand will drop in September. The website also shared two tantalizing details fans can't stop buzzing about: Firstly, Haus Laboratories' products will be exclusively sold on Amazon, making it the first major beauty brand to do so. (So, while fans may not be able to find Haus Laboratories at their favorite brick-and-mortar beauty stores, they will be able to take advantage of Amazon's lightning-fast shipping.) Secondly, the mogul has already revealed what her beauty brand will first focus on: kits.
Which means you'll only need to pay $49 — the price of one Haus Laboratories kit, according to Business of Fashion — to get your hands on Gaga's lip gloss, lip liner, and a multifunctional pigment. Additionally, the brand itself unveiled in a Tweet from the new @HausLabs account that all Haus Laboratories makeup will be cruelty free and feature vegan formulas.
However many details are known, though, doesn't stop the internet from discussing what's still under wraps — like the look and colors of the products themselves. The aesthetic of Haus Laboratories, displayed across the brand's social media and in the official reveal video, is one of the main topics; in true Gaga fashion, the brand looks editorial, alternative, and a tad dark. (Fans have also taken to the YouTube comment section to speculate if the track used in the announcement hints at a future Gaga album, but that's a discussion for another day.)
Besides its edgy look, a message of positivity and love radiates through the brand. Lady Gaga finished her heartfelt Instagram post by reflecting on her relationship with herself: "I've come to accept that I discovered my beauty by having the ability to invent myself and transform," she wrote. "They said I was just weird, but really, I was just Born This Way."
Until all is revealed, you can follow the brand across social media to catch any additional hints, or sign up for the Haus Laboratories newsletter on HausLabs.com.