Kim Kardashian's New Fragrance Is "Exactly What Kris Jenner Smells Like" — EXCLUSIVE
KKW Fragrance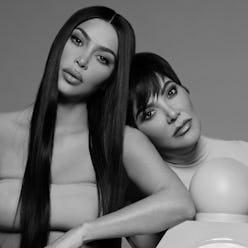 While families across the world are creating different ways to cope with social distancing, the Kardashian-Jenner family is in the same boat, only it's a little bigger. (If you've seen Kim Kardashian West's viral makeup tutorial with a special appearance by North West, then you already know this to be true.) "We're respecting the orders," Kardashian West tells me in an April 14 phone interview. "We stay home, wake up, make breakfast, and just chill... nothing special." But the most famous family in the world isn't going to let a pandemic get in the way of business. KKW x Kris, the newest fragrance from Kardashian West's collection, drops April 15, just in time for Mother's Day.
The white floral and cashmere wood blend, encased in a marbled neutral bottle, is a reflection of mother and daughter — and the rest of the family, too, as each point of the hexagon-shaped bottle represents each of Kris Jenner's children. And even if you can't wear the fragrance outside of your own home, it's still worth adding to cart. From April 15 to May 5, 20% of profits from all sales on kkwfragrance.com go to Blessings in a Backpack, an organization that provides food to children on weekends while they aren't at school.
Keep reading for all the details on KKW x Kris, straight from the duo themselves.
On The Inspiration For The KKW x Kris Fragrance
Kardashian West: "Mom always had fragrance out. I think I probably got into wearing it so much from her to begin with."
Jenner: "I feel like you got a lot of inspiration from all of the bottles. Every time I would have a birthday or would travel, everyone knew I loved perfume bottles. I had this amazing collection, and Kim was really obsessed with them from a really young age.
"MJ always smelled so good, too. [Editor's note: Mary Jo Shannon, Jenner's mother and resident family matchmaker] I was so mesmerized by her makeup counter and bottles, like Kim was with mine. It all really started with my grandmother, though. She had the most beautiful bottles on her dressing table in the bathroom. I remembered the very last gift she gave me — two delicate bottles of perfume. So it always symbolized something for my whole family."
On The Juice (And That Aperol Spritz Top Note)
Kardashian West: "Our tastes have always been very similar. We always had a strong love of gardenia, tuberose. Mom even has me get her this tuberose room spray every time I go to France. We wanted to take some of those scents that we have in common and love so much, but I also wanted it to be a reflection of who she is. If you wanted to know what Kris Jenner smelled like, just take the bottle and literally spray it in front of anyone that knows her and they'd agree. It's a mixture of my mom, from the fragrances she'd wear to her lotion and everything mixed together."
On The Best Coincidence Ever
Kardashian West: "At first, it was a round bottle. But then [the perfumers] brought this new prototype, and I thought it was beautiful. It was like each point represented each one of her children. It made it so much more personal."
On Sharing Products & Discovering New Ones
Kardashian West: "We always talk about skin and skin products, and are always using the same things. Especially during this time, we're able to try so many things that we wouldn't have had time for or thought of before. We have a common love for that!"
Jenner: "What's so great is that when Kim gets something new that works for her, she shares it with the rest of us. She's always sharing samples of the top-secret things she's working on."
On Spending Mother's Day Apart
Jenner: "It's hard. We have so many great memories from years before, and I feel really lucky about that — there are so many things to look back on. But we're pretty good at texting all day long. There's a group family text and everyone chimes in. Just trying to stay healthy and safe is the most important thing, though. We'll probably all do something fun for breakfast and send each other photos and FaceTime."