*This* Is The Difference Between 5-, 7-, 8-, & 15-Free Nail Polishes
IMAXTREE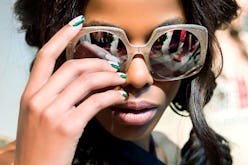 In the world of clean beauty, brands tend to place an emphasis on the ingredients that aren't in their products. Claims like "sulfate-free" and "paraben-free" are an attempt to communicate with the customer in a clear, concise way: This product doesn't include so-and-so questionable ingredient, and therefore, you can feel good about using it. But while free-from language may be concise, it's not actually all that clear. Take, for example, how "non-toxic" nail polish is marketed. Knowing a brand is 5-free, 6-free, or even 15-free is nice… but what does "5-free" mean, anyway?
"What started out as a way to denote which polishes were free of 'the Toxic 3' — dibutyl phthalate or DBP, toluene, and formaldehyde — has expanded to include other chemicals that companies are taking out of polishes," Sarah Gibson Tuttle, the founder nail care empire Olive & June, tells The Zoe Report. That expansion has given way to the aforementioned descriptors, which serve as shorthand for polish brands. The number represents how many potentially-harmful chemicals have been eliminated from a particular formula (Olive & June is 7-free).
"There is zero regulation or standard around these terms, unfortunately," Nadine Abramcyk, the co-founder of tenoverten, tells TZR. "The issue here is that brands are pushing the limit of the meaning by having the 'free' of number cover things like parabens, which never existed in nail polish to begin with, so it's irrelevant." That being said, tenoverten identifies as 8-free and formulates without what Abramcyk refers to as "the evil eight" — including formaldehyde (a known carcinogen), DBP (an alleged endocrine disruptor), toluene (a coal tar derivative that's been linked to liver and kidney damage), and camphor (which stains nails and causes respiratory issues when inhaled), among others.
Because of the lack of regulation, many polish companies refrain from using "X-free" descriptors at all, including AILA Cosmetics. "The truth is, AILA can easily be labeled 15-free, which seems to be the latest magic number in nail polish marketing," Dr. Cary Gannon, DPM, a board-certified podiatric surgeon and the founder of AILA, tells The Zoe Report. "We could also truthfully say AILA is free of lead, animal byproducts, turpentine, cyanide, and bananas and subsequently say we are a 17-free brand." Then, of course, it could go back to the industry's inception and claim to be a whopping 25-free. "But where does it end?" he asks.
Dazzle Dry, a non-toxic alternative to in-salon gel manicures, similarly shuns this labeling system. "In general, the brand does not subscribe to 'X-free' language because it tends to confuse consumers and it's not understandable to them if they don't have a working knowledge of the ingredients," Dr. Vivian Valenty, the founder of Dazzle Dry, tells TZR. Even though Dazzle Dry is technically free from 14 common chemicals and byproducts — including DBP, toluene, and formaldehyde — it chooses to focus on its major differentiating factor, instead: the exclusion of nitrocellulose from its products. Nitrocellulose, the primary "film former" in most nail polishes, is said to create yellow stains on nails. "Dazzle Dry instead uses cellulose acetate butyrate with polyurethane to produce a similar gloss," Dr. Valenty says — and as such, is the only brand on the market that can claim to be nitrocellulose-free (which is a little easier to understand than "14-free," right?).
Until industry regulations catch up to marketing language, Abramcyk says it's "up to the consumer to do the research into the ingredients" — but I won't leave you hanging. Ahead, the "free from" claims of eight popular non-toxic polish brands, deciphered.
5-Free
7-Free
8-Free
10-Free
14-Free
15-Free