Wet N Wild Created A Huge New Makeup Collection To Make Your Last-Minute Halloween Looks A Breeze
ImaxTree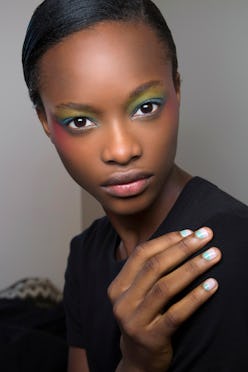 Just in case you haven't looked ahead on your calendar lately, Halloween is officially just several days away. And if the year's spookiest holiday has managed to slip your mind, you may now be scrambling to put together a costume worthy of witching hour (aka the Halloween party you agreed to attend a few weeks back). Thankfully, wet n wild's 2019 Fantasy Makers Collection is chock full of the makeup essentials you'll need to craft a creepy, cool, or clever look this year — at prices so low you won't be able to tell if it's a trick or a treat.
Even if you're not a diehard fan of All Hallow's Eve, you can admit the holiday is a great opportunity to get creative with your makeup. It's pretty much the only day of the year you can get away with sketching spiderwebs or a skull on your face, and it's a prime chance to go totally overboard with glitzy glitter, bright colors, and graphic designs all at once.
Clearly, drugstore beauty favorite wet n wild is on board with the more is more mentality, because the recently dropped 2019 Fantasy Makers Collection is bursting with eyeshadows, lipsticks, loose pigments, paint pots, and multitasking makeup to make even your wildest looks come to life.
The affordable and extensive range, which is now available at wet n wild's website and stores like CVS, Walmart, and Walgreens, has seemingly thought of everything you'd need for a ghoulishly glamorous Halloween look. You'll find familiar beauty essentials like 10-shade eyeshadow palettes in various color collections (including warm neutrals Coffin Break and moody blue and green The Boo Crew), high-impact blushes, and a matte-finish setting spray to lock your look in place all night long — all of which will only run you $6 each.
But the Fantasy Makers collection also includes super-pigmented supplies to create special effect looks that'll appear scarily real. The Fantasy Makers Multistick, just $2.99, comes in ten bold, blendable shades that are easy to apply with precision all over, and the Fantasy Makers Paint Palette, $7, combines six shades in several ranges that glide seamlessly onto skin with statement-making vibrancy. Loose glitter pigments, $3.49, and six-color Glitter Palettes, $4.49, help you finish off your looks with multidimensional shine.
No need to be scared, there's still time to get ready for Halloween by shopping wet n wild's huge Fantasy Makers collection. See some must-haves below, and head to the brands site for even more.