Westman Atelier's Highly Anticipated (& Endlessly Customizable) First Lip Color Is Here
Westman Atelier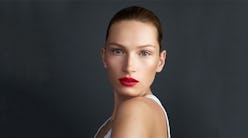 Typically speaking, lipsticks are, well, sticks. And while the formula has been reinvented over the years — e.g. bullet versus liquid — the on-the-go tube has largely remained the same. That is, for the everyday consumer; makeup artists have long-since embraced the art of the palette, as seen by Westman Atelier's new Lip Suede — the brand's first-ever lip color. Or, rather, colors.
"As a makeup artist, I always work with lip palettes. In my kit, I have all the lipstick shades I need scooped out and transferred into an empty grid. I love the freedom of personalizing and customizing. It allows me to add depth or a shot of color or make a shade completely unique," noted founder Gucci Westman herself in a press email. "How you wear the shades is really up to each individual."
This means that the $85 Lip Suede compact isn't simply one new shade; though you could probably infer that by the four ribbons of "Les Rouges" color lining its interior (fuchsia, dark red, classic red, and a neutral rose, to be exact). "If you're in the mood, wear the bright tomato red on its own — or maybe you make it more of an orchid shade and pop in the vivid pink tone to the middle of your lips. Maybe you go deeper," Westman continued. "There is also a lovely brick red, and a beautifully wearable tawny red — great for a day look and enhancing your natural lips."
Even though each shade features a matte finish, the pigments themselves are formulated to moisturize your lips, too. The vegan lip color — made with a vegetable-derived, petroleum-jelly-free base — features the vitamin benefits of cherry and marula oil, as well as collagen-increasing synthetic peptides. Notably, Lip Suede is made without silicones, parabens, phthalates, and more, tying the new launch into Westman Atelier's "clean" beauty philosophy.
Though it all comes back to the shades themselves, and how they play into both user creativity as well as the brand's established luxury line. "I wanted to see a pop of color in the Westman Atelier range — something amazing and bright and gorgeous!" Westman added. To grab your own Lip Suede compact, visit Westman Atelier's website or simply keep scrolling down.