This Skincare Ingredient Is The Secret To Firmer Skin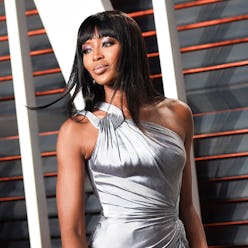 Choosing your skincare should be just as methodical as planning your diet. Think of it this way: When you want to feed your muscles, you eat protein, right? Same should go for your skin. As it turns out, peptides are protein for your skin, and much like a healthy meal, this ingredient can make you look your best. But what exactly are peptides? As we age, the amount of collagen in our skin begins to decrease—this leads to wrinkles. Here's where peptides come in. Peptides are chains of amino acids that, when applied topically, send signals to the skin to create new collagen. It's all very scientific, but all you need to know is peptides are always a good idea. Ahead, five peptide-packed products that give fine lines a run for their money.
Peptide Party
Drunk Elephant Protini Polypeptide Cream
Improve the appearance of skin's tone, texture and firmness and even reverse sun damage with this protein-filled moisturizer. The result: radiant-looking skin.
Pacifica Disobey Time Rose and Peptide Facial Mask
Let this cocktail of peptides, rose hip seed oil, chamomile extract, red rice extract, hyaluronic acid, pomegranate and green tea soak into your skin. You'll look awake and youthful—and it costs less than $5.
Pixi By Petra 24K Eye Elixir Peptide
Remove those fine lines around your eyes and instantly improve your skin tone. Peptides in this elixir plump the under-eye area while the cooling rollerball applicator boosts circulation.
La Prairie White Caviar Illuminating Clarifying Lotion
After washing your face, soak a cotton pad with this clarifying lotion to slough off dead skin—this allows your skincare to seep in. Not only is the product packed with peptides, it also contains caffeine, biotin and niacinamide, which help reduce the appearance of pores and keep skin shine-free throughout the day.
La Mer The Regenerating Serum
Sure, this serum will cost you a pretty penny, but can you really put a price on youthful skin? Fermented marine peptides not only promote collagen production and diminish fine lines, they also reduce pore size and leave skin looking fresh.