"Painterly" Eyes Are Trending At NYFW Spring/Summer 2020
instagram.com/mansurgavriel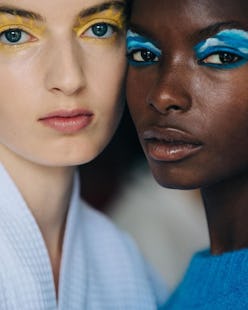 As gorgeous as the hair and makeup looks are during fashion week, the beauty can become a bit predictable after a while. Shiny, wavy hair is always going to pop up at multiple shows. And dewey, fresh-faced makeup will inevitably adorn the faces of models at many a backstage. But during the Spring/Summer 2020 shows in New York City, a trend has emerged that is so dreamy, and so artful, it might make you weep with joy. It's watercolor eye makeup, and it's the complete antithesis to minimal makeup — sort of.
At Christian Siriano on Sept. 7, both the boys and the girls had swipes of shadow across their lids. "Christian really wanted painterly [eye makeup]," Erin Parsons, lead makeup artist for Maybelline, notes. "So it's really just dipping your fingers into different shadows and adding colors." She used Maybelline's Tattoo Studio in Chill Girl as a base, and then mixed on different colors, depending on the girl. And fun fact: at one point, Siriano himself came by and vetoed a blue shadow for a more streamlined look.
But overall, the application was so organic and haphazard that Parson didn't even know if she should answer questions about it. "I kept trying to push [Siriano] in a different direction, but this is what he really wanted," Parson said. "It's just feeling the bone structure and just swiping on."
That same careless glamour was evident at Ulla Johnson on Sept. 7, too. "I'm telling my assistants not to overthink it," Romy Soleimani, lead makeup artist for Bobbi Brown, tells TZR. And that's the beauty of the watercolor eye. It looks intricate and complicated, but it's meant to be imperfect and "painterly," as she describes of the custom pistachio green swept across the lid. "You want it to feel haphazard and nonchalant — like a brush stroke," she says. "You want to feel the brush stroke."
When trying the look at home, don't be so tethered to positioning or blending any particular way. "I'm always thinking about movement when I'm doing this show, because these are clothes you move in," Fatima Thomas, lead makeup artist at Chromat (on Sept. 7), notes. Working with MAC Cosmetics acrylic paints, each model got something different — from color blocked cat-eyes to dotted, sweeping lines. "There's no common thread. Everything is its own."
And at Mansur Gavriel, Romy Soleimani for Bobbi Brown created an actual watercolor painting on the eyelids. Using a thin paintbrush, she painted on a bright, lemon drop sun, complete with sunbeams, across one model's eyes. On another, she painted a cloudscape. "The designers came to me with this idea based on sweaters that they're showing in the collection," Soleimani said. "I wanted to keep it playful and whimsical, but it's real painting."
In a season where no-makeup makeup is still the look du jour, watercolor eyes remind us of the artistry of makeup. It also reminds us that anyone can do it. All you need is your fingers, some gorgeous pigment, and a little inspiration.