Warby Parker Brought Back Its Fan-Favorite (& Sold-Out) Chloë Sevigny Collab
Courtesy of Warby Parker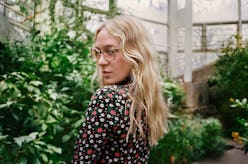 Where were you when the Warby Parker x Chloë Sevigny glasses dropped? Hopefully you were online buying them; because the Tate glasses, Warby Parker's collab with Chloë Sevigny, were a fast fan-favorite — and completely sold out, leaving a glasses-shaped hole in the heart of shoppers who missed their chance to score a pair. That is, until May 21. After seeing the style's immense popularity, Warby Parker invited Sevigny back to create the Crystal Overlay collection, her very first independent collection for the brand. And all the styles — which includes both prescription frames and sunglasses — are available now.
"The inventive construction of the Tate frame came about when we first partnered with Chloë for last year's Pupils Project Collection," Neil Blumenthal, Co-Founder and Co-CEO at Warby Parker, tells The Zoe Report over email. "Chloë wanted to design an acetate frame that differed from a classic tortoise. She and our design team landed on the Tate, a unique layered combination of crystal acetate over an intricate metal frame."
Little did anyone know that the Tate frame would quickly become a hit — and left fans wanting so much more. "The Tate frame was a sellout, giving us an excuse to design an entire collection around the unique construction and understated silhouettes," Blumenthal adds.
Naturally, your first move may be ordering Warby Parker's Tate glasses ASAP now that they're back in stock. Retailing at $145, the acetate-over-metal frames are unquestionably cool, and will add a touch of Sevigny's uniquely chic style to your wardrobe. "The construction really highlights the metal workmanship," Sevigny noted in a press email quote.
However, choosing the Tate from the rest of the Crystal Overlay collection may be a bit tricky, since it introduces four totally new Warby Parker frames as well. First up are the $145 Jenkins frames, a boxy pair with hazy acetate layered on top. Then the Whitaker glasses — a circular version of the Tate that goes for $145. Or, for the same price, you could choose the feminine Lindley glasses; the design features an ever-so-slightly cat-eye shape.
And those are just the optical glasses. Each new frame can be ordered as sunglasses, too — including the Tate frame. Finally, the collection also offers the new Daphne sunglasses, a circular metal frame with a tortoiseshell-patterned acetate overlay.
With Warby Parker's Leith Clark collab still in stores as well, this may be just the beginning of the brand exploring more eclectic frames. "Supporting creatives we admire has always been an important part of what we do at Warby Parker. Our talented in-house team continues to dream up beautiful collections, and we do have a couple collaborations in the works," Blumenthal says. "I can say we have more fun stuff upcoming this summer and fall — you'll have to stay tuned!"
Below, the new Crystal Overlay collection.