Warby Parker's Pupils Project Collab Features A Chloë Sevigny-Designed Pair
Warby Parker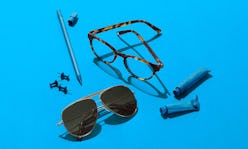 It's not a hyperbole to say that Warby Parker changed glasses shopping forever. Affordable, stylish glasses, shipped right to your house? Yes, please. And now, the once-sleepy industry is being shaken up again by the release of Warby Parker's Pupils Project collection, which donates all proceeds to help schoolchildren receive much-needed vision care.
Released Oct. 9, the collection was co-designed by 10 separate artists, designers, activists, and creatives as an effort to raise money for Warby Parker's Pupils Project. The eclectic lineup features Chloë Sevigny, Mary-Louise Parker, Rosario Dawson, and Gloria Steinem, just to name a few of the celebrity names on the roster. The thread connecting each person is that they're all New Yorkers, honoring the city where the Pupils Project began.
The result of so many diverse stars designing for one collection? Ten completely different pairs of glasses, each reflecting the trademark style of the celebrity who helped design it. And Warby Parker's signature affordability is still represented, too — the collection starts at just $95.
One of the standout designs in the collection is Chloë Sevigny's Tate eyeglasses, which start at $145 and combine wire frames with trendy acetate. The shape is similar to the retro wire glasses the actress wore in the movie Zodiac, while also calling on her signature cool-girl style.
Many of the glasses were designed to appeal to a wide range of styles, such as Michael K. Williams' tailored Avery frames starting at $145 or Fran Lebowitz's widened take on Warby Parker's popular Percey design, which starts at $95. But if your style skews away from androgyny, there are still plenty of decidedly feminine pieces to choose from. Leave it to the glamorous Rosario Dawson to help design these oversized Essex sunglasses starting at $95, a chunky emerald green frame with a subtle ombré to the shade.
Get to know the glasses as well as the creatives behind this collection by browsing the entire Pupils Project collection below.