How W Concept's Site Relaunch Is About To Make Shopping For Cool, Emerging Brands So Much Easier
Shutterstock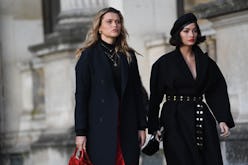 Fashion insiders can now consider the online boutique W Concept a previously well-kept secret. While the South Korean e-commerce shop has earned high marks for style — and for introducing American shoppers to emerging international designers — since launching in 2006, the store hasn't truly blown up... yet. Things are about to change, though. W Concept just unveiled a new, updated website, offering free shipping to 17 countries until April 1 to tempt shoppers even further.
And you may be one of those tempted. W Concept stocks over 2,000 indie fashion brands, making it a go-to destination for shoppers interested in emerging designers, international styles, or who just don't want to wear what everyone else is wearing. That's not to say that designers W Concept stocks aren't coveted in the fashion community, though, once the brands become more accessible to a mainstream audience — take the Korean footwear and accessories brand Yuul Yie as a prime example. Since opening up shop in 2010, the relatively young, W Concept-stocked brand has gone from being a fan favorite to having its shoes sold at Nordstrom. That is the type of fashion W Concept curates.
W Concept doesn't just serve as a platform to shop the best in Korean clothing, either. There are other international fashion brands on the site you need to get to know, like the Stockholm-based Little Liffner. (The accessories brand behind the $379 Little Lady Bag you'll want to carry everywhere.) Or, use it to browse K-beauty skin care and beauty products you may have trouble finding anywhere else; W Concept offers makeup, hair care, and more.
With so much variety — W Concept currently offers over 50,000 products on its site — you may be wondering why the store even had to redesign its online platform. However, it makes sense: The renewed website focuses on increasing the accessibility to all those products, adding in options to sort W Concept by easy-to-use filters like color, size, and price, as well as shopper-focused filters like style, category, and brand.
And while you should hop over to W Concept's new website and explore it for yourself, here's a little sneak peek to get you started. Ahead, eight pieces you can find on W Concept (including the dreamiest Yuul Yie slingbacks and that Little Liffner purse).