Volition Beauty Created A New Moisturizer Inspired By 2019's Favorite Juicing Trend
Courtesy of Volition Beauty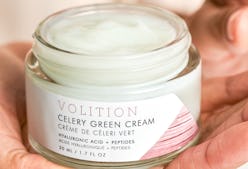 You know that refreshed, energetic, and light-as-a-feather feeling that you get after a good green juice? Downing the nutrient-dense beverage is like pressing a little reset button each morning, starting your day off on a decidedly healthy note and serving up benefits inside and out (healthy digestive system and clearer skin, yes please). Now, what if you could double up on all that goodness by slathering your face in the same detoxifying green stuff every morning? You can with Volition Beauty's new Celery Green Cream, which harnesses the power of the most popular juice ingredient du jour, celery, for your healthiest skin ever.
As far as beauty brand business models go, it doesn't get much more cutting edge than placing the power of innovation in the hands of consumers themselves. That's exactly the deal over at Volition Beauty, a skin care and cosmetics range that opens the floor to beauty fans every to collaborate on what's next in beauty and then works with top rate labs to bring the products to life. The Celery Green Cream is the latest group-effort game changer to drop — and this is one you won't want to miss out on.
For the just-launched Celery Green Cream, $55, Volition Beauty teamed up with Olympic gold medal gymnast Nastia Liukin to come up with a naturally purifying daily moisturizer that harnesses the powers of celery in skin care — so its benefits can be found beyond just your morning juice routine.
"I've been on the celery juice train since the early 90s. I've been sipping on this miracle stalk to aid digestion, clear up skin issues, and restore my overall health and internal glow for over two decades now," Nastia Liukin said in an official press release. "As I've gotten older, I realized how beneficial this was for my body, which kind of sparked an idea: If celery juice is this good for my body, it has to be good for my skin as well."
Volition Beauty leaned on celery, which is a natural purifier, in extract form for the moisturizer to cut back on excess dirt and oil so your skin can breathe. The water-dense stalk is also rich in vitamins A, C, and K that pack a protective and hydrating antioxidant punch, so your complexion remains safe from environmental stressors and free radicals throughout the day. The result? Smooth, poreless skin.
On top of that, the Celery Green Cream combines firming and elasticity-improving peptides and moisture-rich, plumping hyaluronic acid for a surge of hydration to help skin look radiantly lit-from-within. A dash of other naturally-sourced ingredients, like green tea, cucumber and lavender, and apple and raspberry extracts soothe, balance, and even skin so it looks bright, toned, and totally healthy. It's like drinking green juice, just for your face.
Upgrade your skin care routine with a dose of greens by grabbing Volition Beauty's newest celery-packed face cream, below.