This Under-The-Radar Brand Just Put A Totally New Spin On The Prairie-Dress Trend
Viva Aviva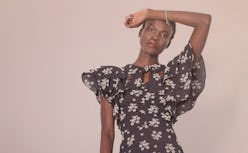 As soon as you head to Viva Aviva's website, you'll see the brand's mantra underneath its name: "If you always dress for a party, life will always be one." Within those first few moments, you'll understand exactly what the label is all about. With pieces featuring voluminous ruffles, vibrant colors, and whimsical prints, the brand can easily be described as fun and flirtatious. If you want to take that feeling with you into fall, Viva Aviva's Pre-Fall 2019 collection features a cool juxtaposition between two of this year's biggest trends.
Chances are, as you've been scrolling through Instagram and researching trends over the past season or two, you've noticed two particular aesthetics taking over: prairie-girl chic and cool '80s glam. While these two styles may be seen as polar opposites, Viva Aviva is bringing them together for its Pre-Fall 2019 collection in the form of maximalist shapes and romantic ruffles with floral prints and bold hues. And after one look through these statement-making pieces, you'll immediately want to add them into your wardrobe.
If you haven't heard of Viva Aviva yet, it's time to get acquainted. Founded in 2012 by Aviva Falk, the New York-based, under-the-radar brand has made a name for itself creating pieces designed to be seen. According to its About page, Viva Aviva "plays with dichotomies" each season, bridging the gap between contrasts.
While Viva Aviva's pieces may feel like a maximalist's dream, they also take on a minimalist approach. For those who want something to wear for everyday occasions, get yourself the Theodosia Skirt, $325. Dress it down with a plain black or white T-shirt and loafers, or style it with a silk tank top for a more polished look. Another stylish option for a minimalist closet is the $450 Waimeae Dress, which can be worn to an elegant garden party with wedge sandals. Want something with prints? The Hester Dress, $475, boasts prairie-chic ruffles and can be worn to the office with brown knee-high boots.
On the other hand, if you like to dress with a sense of drama, you can't go wrong with the bright orange Zulima Dress, $550. Wear it with simple white sandals and a gold clutch for a formal event this season. And in case you need something to sport for multiple occasions, the Soma Dress, $475, can be styled on its own or layered over a long-sleeve shirt when the temperatures begin to drop.
Scroll down to see more from Viva Aviva's Pre-Fall 2019 collection below.