Thandie Newton's Style Will Convince You To Channel This Unexpected Decade
Pascal Le Segretain/Getty Images Entertainment/Getty Images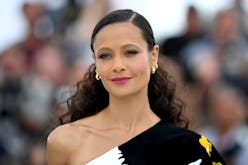 Thanks to her acclaimed performance in the cult-classic HBO series Westworld, Thandie Newton has been no stranger to a red carpet lately, and if you've been keeping a close eye on the actor's looks, you might notice a theme. The actor grew up in the age of Madonna and Jane Fonda, and she dresses like it, too. Though the fashion world is obsessed with all things '90s right now, Thandie Newton's retro style may just inspire you to channel the '80s.
2018 was a big year for Newton, and the British actor doesn't seem to be slowing down anytime soon. So far, she's received an Emmy, a BAFTA nomination, and a Golden Globes nomination for her roles in Westworld and Line Of Duty.
And all this recent recognition means more outfits for you to ogle. When it comes to Newton's style, it's obvious that she never quite grew completely out of the '80s, but she manages to incorporate old-school design elements in the best possible way.
Take the bright and bold floral patterns she's become known for, or the side ruffle she rocked at the BAFTAs last year. The 46-year-old is no stranger to a puffy shoulder, either. Ahead, four of Newton's strongest looks that will make you fall in love with the '80s all over again.
Puffy-Sleeve Mini
Remember that blue-and-pink floral mini with the ruffled skirt and pleated shoulders she wore to the Toronto International Film Festival in Sept.? So retro. Newton's Magda Butrym dress had all the best design elements of the big-hair decade (including big hair, adhering to the theme): a frilly, asymmetric hemline, ballooning shoulders, and best of all, a vintage-inspired rose print.
Padded Shoulders
Speaking of puffy shoulders, the suit she wore to the Tribeca Film Festival in April deserves a mention, too. The ER icon is partial to a structured shoulder and she doesn't care who knows it — this fiery silk-satin two piece by Schiaparelli is proof. Boasting a plunging neckline and extra-wide lapels, the set brought back the bygone decade in the subtlest way.
The '80s Side Ruffle
When you think of Newton's ultimate throwback look, the gown she chose for the BAFTAs in May is probably the first to come to mind, but not just because of its immensely bright florals (although those were pretty old school, too). This time, she incorporated that iconic side ruffle that pretty much sums up the decade. If you can believe it, the dress was even more '80s on the Richard Quinn Fall 2018 runway.
One-Shoulder Dress
You can't possibly talk about '80s fashion without mentioning the legendary one-shoulder neckline. Newton payed homage to the vintage silhouette with the dress she wore to the OCS 10th anniversary party in Paris this past Dec. Her multicolored Louis Vuitton dress featured the single-shoulder silhouette you used to wear to school dances.