FYI: Winnie Harlow Loves The Bra Style You Hate
MediaPunch/REX/Shutterstock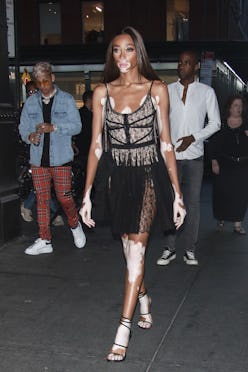 If you were having a totally casual conversation with your friends about current lingerie trends — and one does — push up bras likely wouldn't make the cut. While they were the style du jour of the early aughts, today it's simple T-shirt bras or unlined bralettes that have gained favor among most women. But, before you write off the push up completely, know that Victoria's Secret model Winnie Harlow is back on board with the old-school lingerie trend, and after hearing her story you might be too.
While backstage getting ready for her first Victoria's Secret Fashion Show in NYC, Harlow shared that a recent night out convinced her to pull the trigger on the throwback style. "I haven't worn a push-up bra in so long, but my best friend loves them," she explained. "I was in Miami and I had no bras to wear with this outfit that I really needed [one] for because it was a little too big. So I wore her push-up bra for it and I was like 'I kind of miss this'." Harlow explains that most days she opts for something more low key, "I like lacy, no padding, just a little something [comfortable]." But, that as soon as she arrived home from her trip, she went online and ordered two push up bras to add to her own intimates drawer.
While a push up bra may not be what immediately comes to mind when thinking of everyday-wear, there's a reason it became the ubiquitous choice for night-out dressing way back when — for the woman who wants a little lift, it gets the job done. Lingerie is an extremely personal purchase, and what works for some bodies may not work for others, but for those nostalgic for the trends of the 2000s, this may be just what you're looking for.
Winnie Harlow backstage at the 2018 Victoria's Secret Fashion Show
So, while the push up may not top the list of current lingerie trends to try, there's no reason you can't take cues from Winnie and break one out again. Below, find a handful of styles you can add to your lingerie drawer if you're looking to mix things up and maybe stir up a little bit of fashion nostalgia too.