Candice Swanepoel Says This Lingerie Trend Is Going To Be Everywhere
Broadimage/REX/Shutterstock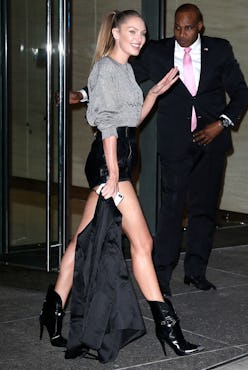 If there's anyone who's hip to the intimates trends for 2019 to know right now, it's a Victoria's Secret Angel. Candice Swanepoel, a veteran who's had her Angel wings since 2010, has had the opportunity to wear everything from rhinestone bodysuits to strappy push-up bras, but at the moment there's one trend she's most excited to try: neon. "I was trying on some of the Victoria's Secret pieces, and they had mixed a black lace with some neon kind of elastics, which was very cool," she explains. "I think the neon pops so nicely."
Neon has become a commanding outerwear trend this year, with designers swapping traditional fall jewel-tones for slime green and highlighter pink. But, while neon intimates may not be so overt, they offer a take on the trend that allows you to be as bright as you want to be. An electric yellow bra stays hidden beneath a chunky knit — but layer it under something sheer and it's an entirely different story.
As with all aspects of fashion, trends ebb and flow, and when one comes into favor, another fades. For Swanepoel, while she adds neon pieces to her lingerie collection, she's getting rid of any underwear that's cut too low. "I used to wear my lingerie really low on the hips when I was younger," she says. "Now that I'm older, I know that specifically for my body, I like to wear quite high-cut things. I don't wear any of that hip-hugging lingerie," she says.
Swanepoel adds that even in her outwear choices, she sticks to things that are high-waisted, "I don't wear low jeans, it just feels so wrong to me."
So, on your next intimates shopping trip — or, the next time you sit down on your couch to scroll for some lingerie— take a page out of Candice's book and look for bold-colored styles (preferably with a higher cut). To help you get a jump start, find a selection bras and underwear all featuring bright pops of neon, all inspired by Swanepoel's new favorite intimate trend. Feel free to show them off below a sheer top, or keep your new colorful collection all to yourself: Either way you're underwear collection likely never looked quite this fun.
Mix softer hues with pops of neon if you want a more subtle introduction to the trend.
This high-waisted pair will keep you comfortable without riding up.
A soft nude pairs well with a pop of neon yellow.
For underwear that doubles as outwear too, consider this bold bodysuit from Prada.
High-cut underwear in a day-glo pink is both cute and comfortable.
Araks' soft bralette will quickly become a favorite to wear under slightly sheer white shirts.
For those who prefer slightly less material when it comes to underwear, it's still possible to pack a punch of color.
This coordinated set is for the woman ready to dive in head-first to the neon trend.
Try styling this sheer bra with a scoop neck black tee for just a hint of color.