4 Black Victoria's Secret Fashion Show Models Describe The Show As A "Sisterhood"
Dia Dipasupil/Getty Images for Victoria's Secret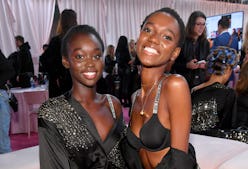 The backstage atmosphere at a fashion show is always a tossup. There are lots of people, twice as many personalities — and very little space. And some models, especially those with particularly busy schedules, would prefer online shopping or listening to a podcast instead of dealing with inquiring reporters before showtime. That wasn't the case at New York City's Pier 94. The difference between fashion month shows and the Victoria's Secret Fashion Show 2018 is the overwhelming sense of community, especially for models of color. This year, there are 49 models representing more than 20 countries representing six of the seven continents in one major show.
"We're all just like sisters," model and VS first-timer Subah Koj tells me, while admiring her lips in her phone front-facing camera. (I later learn it's Victoria's Secret Velvet Matte Cream-painted lips.) "We're all here to support one another." Mayowa Nicholas, who walked the show last year, gushed about sitting next to Bella Hadid and marveled at the fact that Adriana Lima walked her first show when Nicholas was just three. "I watched them for so long," she says. "It's incredible." But with Lima hanging up her wings after this year, models like Koj and Nicholas get to change the course of the show's history for years to come.
"This is the most diverse casting Victoria's Secret ever had," Anthony Turner, Conair lead hairstylist, reflects. "When you've got such diversity in casting, I'm against making every girl look generic. I'm a stickler against that." So in celebration of the variation, Turner made sure that all of the models looked like a "better version of themselves." Yes, some girls had the signature, tousled waves that the angels are known for. But there was a generous sprinkling of natural curls (like on Aiden Curtiss, Alanna Arrington, and Chey Carty), and even pixie cuts (like on Jourdana Phillips). But the most innovative hairstyles to be seen were the buzzcuts. Grace Bol tells TZR that she used her own concoction of shea butter, olive oil, and coconut oil to give her short hair a shine. As for first timer Iesha Hodges? She gave herself a cut 12 days before the show (and documented the process on Instagram, naturally).
"I have to keep it looking fresh! If it's not buzzed, it's not right," she says. "My hair routine is buzzing every three to five days depending on how fast it grows. I have to maintain it."
Hodges won't disclose which dye she uses ("Top secret!" she jokes), but does reveal that she uses a 1/8 clipper guard when she's shaving for "that Amber Rose look," along with the Olaplex system to protect the health of her hair — a trade-secret that works for just about every texture.
Looking pretty for the show is important, of course. (And the fact that Charlotte Tilbury keyed the makeup doesn't hurt, either). But for Iesha, a Brooklyn-born vlogger, the moment isn't just about aesthetics. "This all feels so empowering. From the moment I walk through the door, it's such a sisterhood," she says. "We have buzzcuts, curly hair, straight hair, long hair. I can't even put into words how amazing it is. This is the time."
Now, the show's casting isn't picture-perfect: Some of the loudest criticism revolves around the lack of body diversity presented. Ashley Graham expressed her wishes to walk the show for the past two years, and she still hasn't been considered. That's not to say that it's impossible. In 1995, no one thought that a small show held at The Plaza Hotel would turn into a televised production with millions of viewers.
"Fashion never looks backwards," Turner smiles. "It's meant to look forward. That goes across the board. We don't ever go back."