The 4 High Heeled Ankle Boots You Need For Winter, According To TZR's Market Editor
Travis Matthews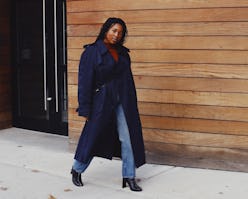 For me, the boots I buy (and wear) during the winter have always been about practicality. Knowing that something flat and weather-resistant could handle any snowstorm, any photo shoot, any situation; that's what I usually stick with. As a result, I let my personal style style take a backseat to comfort during colder months. But this year, I've decided I no longer want to dampen my style solely for the sake of weather. Instead, this winter I'm making the case that high heeled ankle boots are a surprisingly functional choice.
I'd define my personal style as juxtaposition; contemporary meets whimsical with a touch of '90s nostalgia (think: Nina Mosley in Love Jones). My winter wardrobe is a fusion of monochromatic color and rich textures, but an outfit just isn't complete without a great pair of shoes, so cue my 2018 quest. My goal in the last few months has been to find options that compliment my ever-growing collection of vintage jeans and cool knits, while still allowing me to function in the city, no matter where a given day may take me.
After a few clicks online, and mad woman searches on Net-a-Porter and eBay alike, I narrowed my search down to four key high-heeled ankle boot styles. Equal parts practical and chic, they're the essentials I'm now committed to making part of my winter wardrobe. Below, I'm sharing my personal journey while also offering up the exact boots — and accompanying outfits — you need to help you nail winter dressing too.
1. Sleek Black Boots
You always have to start with a black boot. It's a great starting place when beginning to build your wardrobe, and can be the driving force for so many outfits. A thicker heel (that's not too high) allows for comfort without risk of slipping. For me, Rag & Bone's boots have the perfect heel for comfort, and the right amount of punch with the front zipper detail. A navy classic trench, burgundy turtleneck and vintage crossbody completes my '90s Calvin Klein homage.
2. (Actually Comfortable) Stiletto Boots
Stilettos may not seem like the ideal winter boot, but hear me out. These beautiful Brian Atwood boots were the first pair I bought this year, but also the last ones to make their debut on my Brooklyn streets. The key to finding the right stiletto boots is finding one that's not too high, so you can still move easily — and knowing that they're never going to be your first choice for a snowy, icy day. And as for styling, I paired these elevated boots with a vintage denim bustier dress, Jil Sander turtleneck, and shearling green coat for a polished yet un-fussy ensemble.
3. Platform Boots
A trick to wearing boots during inclement weather is to opt for puddle-skimming platforms. My current favorites were an eBay score, but there are plenty of new styles, too. Platforms are sturdy and comfortable, and are best paired with simple outfits that let the boots speak for themselves. In my case, I paired a beautiful asymmetric denim skirt from Y's, a classic turtleneck and brown belt to finish everything off.
4. Burgundy Boots
Burgundy is a classic color that I always come back to winter after winter. The dark hue hides scuffs and dirt and adds a subtle pop of color to my more subdued cold-weather outfits. A pointed toe or embossed croc detailing make the style feel most of-the-moment.