Designers Predict This Summer Staple Will Be The Next Big Thing
@nnennaechem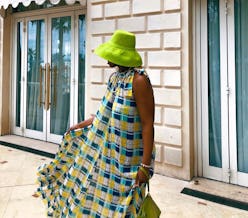 For those who love the ease of one-step dressing, the start of summer can trigger a craving for a very specific dress style. Its hemline is fluid, its fit is liberating, and its average dressed-and-out-the-door time is somewhere around 45 seconds. These are just a few of the perks of wearing a sweeping, barely-touches-your-body silhouette. And in the thick of the hottest months of the year, this kind of dress not only deserves a bit of appreciation but also recognition. Like the prairie dress before it, the so-called "vacation dress" has become a summer staple.
While images on Instagram do a decent job of evoking some of the joy that comes with wearing an unrestricted garment, the designers driving this now-evergreen look are the ones who can shed light on why its appeal is so prevailing. "What's most appealing for me is the freedom and ease when on the move," says Marina Cortbawi, founder of Merlette, a travel-inspired New York brand. But, as Cortbawi explains, its signature full, tiered silhouettes translate beyond vacation. "Our loose-fitting dresses are worn every day and even for work."
With practicality leading the conversation when it comes to many fashion trends in 2019 (see: all things athleisure), designers are crediting comfort as the reason why they continue to stand behind these vacation-ready, but not vacation-exclusive, pieces. "Women want to be comfortable and get that it's not a huge compromise," explains designer Sandy Liang. Strict fashion "rules," she adds, around needing cinching your waist or defining your figure "don't really apply anymore."
For Liang, her take on the billowy summer dresses include oversized babydoll options with ruffled details and full sleeves. "I love these dresses but not just because they're not tight fitting," explains Liang, who says she personally was never much of a tight-dress wearer. "It's just the overall attitude of the dress that makes it special. It's sweet, but not. It's sexy and short, but also super conservative in a way."
Like fashion's recent fascination with prairie dresses, the typically summery styles in question seem to make a strong statement even if inadvertently. As The Washington Post's Robin Givhan said of the prairie dress trend last fall, "Their power is in everything that they refuse to be." Specifically this includes hourglass-figured or occupying as little space as possible.
Perhaps the same can be said of these body-cling-averse, nearly tent-like summer frocks. They remain comfortable and cool, but also refuse to subscribe to summer being a strictly skin-baring time of year.
As Merlette's Cortbawi says, summer dresses are "potentially a new way of feminine power dressing." That might be the case, but the most powerful theme to hopefully stick around is the option to be comfortable in any setting. And as an added bonus: being more thoughtful in shopping for pieces that don't have to have a seasonal expiration date. "It lasts beyond the warmer months because they are layering pieces," says Cortbawi. "We see women tagging us in London and Tokyo in the winter wearing our best-selling Soliman dress over leggings and turtlenecks with boots." Feel free to do the same with the options below.