This Beauty Brand Just Released 7 Shades Of Black Eyeliner — Here's Why
Courtesy of UZ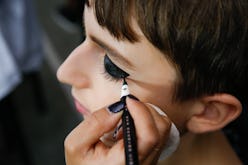 What color is your favorite black eyeliner? How about when you compare it to your go-to mascara, or the smoky black eyeshadows in your collection? For a color that should be simple — it's theoretically the darkest shade you can buy — black is surprisingly complicated. That's because no two shades of black on the market are really the same; consider how many brands offer "blacker-than-black" or "blackest-black" products. Most of the time, this little fact is largely ignored. However, UZ's new 7 Shades Of Black Eye Opening Liner celebrates the complexity of the color you probably reach for the most.
Unveiled on the runway at the 3.1 Phillip Lim Spring/Summer 2020 NYFW show Sept. 9, UZ's new additions include seven unique takes on black, retailing at $16 a pop: Pitch Black, Matte Black, Metallic Black, Platinum Black, Navy Black, Red Black, and Green Black.
And yes, OK, this definitely might appear overwhelming at first. How do you pick from multiple similar shades? But the new launch was actually inspired by fans of the brand — meaning that you, too, will be able to find a black tone that works perfectly for you. "#7ShadesofBlack was created by listening to all of your ideas for the 14th #EyeOpeningLiner color. With no two requests exactly the same, 7 Shades was conceived from this appreciation of variety," UZ explained in an Instagram post detailing the 7 Shades of Black launch.
It also helps that you can see the liner on full display just by looking at the 3.1 Phillip Lim show's makeup. "The look is dramatic and very precise," reads a quote by the makeup artist Diane Kendal, who created the show's pronounced cat-eyes. "And because the fine tip is hand-blended by artisans in Japan it makes for an effortless and controlled application," Kendal added, referencing the UZ liner's YAMATO TAKUMI felt-tip brush.
The long-winged liner accented the sculptural collection — as well as the natural look of each model. "It accentuates the eye beautifully and makes a statement without overpowering the face," says Kendal. "The various tones and finishes are very subtle within the 7 Shades of Black collection, so everyone can pull off the entire range."
"This season, as ever, we celebrate community and the wider 3.1 Tribe by partnering with like-minded brands who champion beauty with responsibility, and share our pursuit of achieving a sustainable balance," reads a passage from the 3.1 Phillip Lim Spring/Summer 2020 collection notes. "With UZ, a newly launched global beauty brand committed to using safe, sustainably-sourced ingredients that are never tested on animals."
You can pick up the new shades at UZ's NYC location, or online at UZ.team. Ahead, all seven new black liners from UZ.