The Brand Behind The Unframe The Beauty Campaign Makes Its US Debut With Bold, Colorful Eyeliner
UZ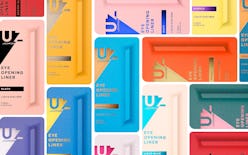 There are two key things to know about UZ's viral Unframe The Beauty marketing campaign: First, up until March, next to nothing was known about the mysterious, buzzy Instagram account @UnframeTheBeauty — even though it had captured models', influencers', and fashion editors' attentions. Second: You may already have fallen in love with the campaign's first beauty product without even realizing it. But lucky for you, the puzzle has been solved, and the mystery brand has debuted online.
The IG account belonged to the new beauty brand UZ, or UZ by Flowfushi as it's also known; according to Allure, UZ is a new step forward by the popular (yet now defunct) J-beauty brand Flowfushi. While this may be the first time you're hearing about Flowfushi, the brand was absolutely beloved in Japan, dominating a 25 percent share of the liner market. As you may have guessed, its shutdown broke quite a few hearts.
So why go with the phrase "Unframe The Beauty" instead of the new brand's name? "Our earliest associations with makeup and beauty were completely unframed," UZ Founder Hiroshi Imamura explained in a press email. "Trying on lipstick for the first time in your life was playful and uninhibited. The company's goal is to enable people to return to that purely joyful state."
Get ready to be joyful: UZ debuted with the Eye Opening Liner, a $16 eyeliner that'll be available in 14 different shades. Allure noted that the liner is similar to Flowfushi's hugely popular Mote Eyeliner, which also featured a similar brush and an easy-to-wield octagonal shape. The Eye Opening Liner is cruelty-free, phthalate-free, and waterproof, with hybrid polymers in the formula that repel sweat, oil, and moisture. The first wave of shades drops March 14; you'll have to wait until April 4 to get the white Eye Opening Liner used by makeup artist Diane Kendal to create the minimalist eye looks of 3.1 Phillip Lim's Fall/Winter 2019 show.
Little was known about the liner when the show walked, though — other than that its advertising campaign was on point. If this is your first time tuning into the Sherlock Holmes episode that is the Unframe The Beauty campaign, grab your deerstalker cap and magnifying glass.
The @UnframeTheBeauty account popped up just in time for New York Fashion Week, and you can still track the viral marketing campaign's growth by searching #UnframeTheBeauty on Instagram. The campaign's marketing featured liner-adorned alien ads, mysterious sample products, and one simple message: Keep or Drop? Fortunately, it looks like the world voted to keep the product around.
And the process of inviting pre-release consumers to interact with the company was crucial to how the brand designed the liner. "As a company we work in collaboration with our consumers to Unframe The Beauty. In this context, 'frames' relate not only to beauty ideals, which are often limiting regarding race, gender, and age; but also to established preconceptions related to branding, pricing and outlets," Imamura noted.
You'll be able to get your hands on the black Eye Opening Liner March 14, along with other neutrals like brown-black and brown. The colorful shades will be dropping throughout March and into April, so keep an eye on the brand's website — and its Instagram page, naturally — to stay tuned into each release.