Urban Decay's Massive New Makeup Collection Just Dropped (& It Includes 50 Foundation Shades)
Courtesy of Urban Decay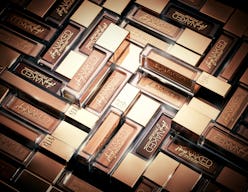 Since the advent of Urban Decay's famous Naked eyeshadow palette, the beauty brand has dominated the world of minimalist, natural-looking, and — dare it be said — naked makeup. And although Urban Decay's new Stay Naked collection is very different than its original nude palette (and much more complex), it still showcases the brand's core strengths: The collection's new concealer, lip gloss, and 50-shade foundation formulas all are made to complement your natural skin.
How they do so depends on the product, though. Naturally, you may have your heart set on checking out the collection's new Stay Naked Weightless Liquid Foundation first and foremost. It retails for $39, and offers 50 shades to choose from — nine "shade intensities" (or shade categories), seven undertones, and three skin mastertones (noted on Urban Decay's YouTube channel as "Cool", "Neutral", and "Warm.") Even more intriguing, the new foundation claims to have a breathable and long-lasting "real-skin matte finish"; so, it may be just the foundation you're looking for as summer continues to warm up.
Similarly, the new Stay Naked Correcting Concealer also promises a skin-mimicking finish at just $29. "Use this 24 hour, second-skin matte finish concealer for just about anything, from adding extra coverage to highlighting your cheekbone," the brand wrote in an official Instagram post announcing the Stay Naked concealer on July 10. And like the foundation, the concealer also offers up an impressive shade range: It features 25 shades and two Stay Naked Pro Customizer Color Correcting Fluids. Available in "Pure Red" and "Pure White", the $29 pigments can be used to boost the color-correcting or highlighting ability of the concealer (or any complexion product you have on hand).
But Urban Decay's $22 Vice Lip Chemistry Lasting Glassy Tints may be the most noteworthy new product of the entire collection. The 12 shades walk the line between lip gloss, tint, and balm; Urban Decay notes in the product description that the non-sticky formula will hydrate your pout and last up to 5 hours. That said, no matter which shade you pick, it'll be unique to just you — each Vice Lip Chemistry gloss is formulated to react to your lips' pH level, revealing a shade specific to your skin. (So yes, it really does deserve the word chemistry included in its name.)
And, just in case you needed one more new Urban Decay product to add to your collection, the Stay Naked collection also introduced the Build + Blend Sponge. The $18 makeup sponge works similarly to those you've probably tried before — it can be used to buff, build, and precisely apply complexion products. Unlike other sponges, though, Urban Decay's Build + Blend Sponge features a silicone center that claims to reduce how much product it soaks up while you use it; which means more foundation in your bottle instead of down your bathroom sink.
Below, five new products from Urban Decay's Stay Naked collection.