This New Mini Urban Decay Palette Is Never Leaving My Travel Makeup Kit — & Here's Why: Review
Urban Decay/Instagram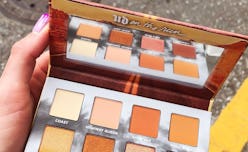 Before bags are checked and planes are boarded comes a task every beauty fan who's ever traveled lightly knows well: Choosing a single eyeshadow palette to bring along for the entire trip. It requires monumental foresight; you must consider where you'll be (island vacation or winter getaway?), your chosen outfits (which shades complement a plaid blazer?), and how much effort you even want to put into eyeshadow (sorry, cut creases). Thankfully, Urban Decay's new On The Run Mini Eyeshadow Palettes turn this entire operation into a five-second task — because packing one in my carry-on bag is a no-brainer, regardless of my destination.
To start, there's the size factor. Released Oct. 25 on the brand's website and at Sephora, the two new On The Run palettes — titled G Train and Highway Queen — are small enough to fit into your purse, while still offering eight very versatile shades. And even though they're streamlined, the On The Run palettes come with a mirror on the inside of the lid (in case you really are doing your eyeshadow on the run).
Neither one will break the bank, either. G Train and Highway Queen retail for just $25 a pop — a price that's especially sweet for palettes that'll see the not-so-gentle wear and tear of travel.
But the shades themselves are what will keep fans coming back for more. Both feature a mix of creamy mattes and subtly powerful shimmers — with the glowy bronzes and trendy terracotta shades being my personal favorites. G Train's sparkly "Trax" is the type of eyeshadow you'll want to wear every single day on vacation: It's an elevated version of a skin-complementing neutral that catches the light just right. And one swipe is all it takes to deliver eye-catching shine.
G Train also diverts from Highway Queen's more monochromatic color story, adding in two luscious greens and one festive gold reminiscent of Urban Decay's original Born To Run Eyeshadow Palette. Pick it up if you need wide eyeshadow options wherever your travels take you; I've already created a low-key peach look and a green smoky-eye from just that one mini palette.
And the best part? It takes all of five minutes to create any look you can dream up thanks to Urban Decay's velvety formula. This means more time spent actually relaxing on your next vacation, and less time mulling over makeup. To stock up on Urban Decay's newest palettes for yourself — before any upcoming getaways — keep on scrolling. Both new On The Run Mini Eyeshadow Palettes are ahead.