Here's What To Snag From Urban Decay's Giant Black Friday Sale
Urban Decay/Instagram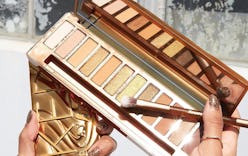 Any shopper can tell you that Black Friday sales rarely just take place on a Friday anymore. In 2019, you can expect to see thousands of them pop up on the Thursday right before — including Urban Decay's Black Friday sale, which officially kicks off Nov. 28. And as is common, the makeup brand's sale doesn't end until early December (Dec. 2, in fact). This means you have a little less than one full week to sort through the brand's site-wide event; though let's face it, you probably won't need that long to stock up your shopping cart.
To unlock the massive sale, make sure you use the promo code "CYBERME" once Nov. 28 rolls around. This will instantly get you free shipping and let you save 25 percent off of almost everything on Urban Decay's website. Which yes, does mean there are a few exclusions: Urban Decay's promo code won't work on the brand's value sets, previously marked-down sale items, On The Run Mini Eyeshadow Palettes, and the soon-to-be-released Party Favor Moondust Platte (which will be dropping Nov. 19).
And there are incentives to taking advantage of this sale. Any order of $60 or more will get a free Deluxe 24/7 Glide-On Eye Pencil in the shade "Perversion" plus a Grindhouse pencil sharpener; and if you spend $75 or higher you'll receive a free Eyeshadow single in the shimmery peach shade "Fireball."
Already know you'll be unsure of where to start, once the Black Friday sale arrives? Lucky for you, Urban Decay has a bevy of best-sellers and cult favorites to choose from that'll make drafting up a shopping list ahead of time a breeze. Its iconic All Nighter Setting Spray, Eyeshadow Primer Potion, and colorful Vice Lipsticks all deserve a spot in your shopping cart. Or, you can grab any Naked eyeshadow palettes your collection is missing.
Ahead, all the Urban Decay products you won't want to miss during its Black Friday sale.