The Subtle Trend That's Slowly (But Surely) Taking Over Fall's New Accessory Arrivals
Need Supply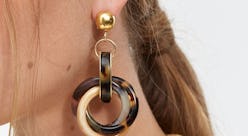 While this summer's accessory offerings were filled with bold brights, citrus hues, and its fair share of shell-adorned styles, you may be left wondering what retailers have in store for the season ahead now that fall is just around the corner. And while it's not here quite yet, it only takes a few clicks and scrolls to notice that tortoiseshell jewelry and accessories are popping up on multiple fashion-girl favorite sites. So while you may not have expected it, it could shape up to be one of the must-try accessory trends of fall 2019.
Though it's not hard to see why this easy-to-wear, multi-colored brown hue would be trending for fall. The coloration of tortoiseshell alone is versatile, and fits in well with an autumnal color palette. You'll find you can pair it up with pretty much everything in your closet, from your warm neutral hues to your luxe jewel tones. On top of that, tortoiseshell has a timeless quality to it, so you're likely to reach for any pieces you scoop up now for years to come.
Within the retailer's new arrivals are a mix of everything from tortoiseshell jewelry and hair accessories to sunglasses. Shopbop, in particular, is serving up a range of pieces in the print, including these sleek, minimal bi-color disc earrings from Diana Broussard for $135. You'll also see a slew of sunglasses up for grabs in the honey-brown shade as well. Snag this classic round frame from Illesteva for $220 or opt for Le Spec's stylish cat-eye shape for $59.
There's no denying that the category currently favoring tortoiseshell the most right now is hair accessories. Over on & Other Stories there's a luxe-looking Tortoise Gold Hair Clip for $19 that you can use to pull back your strands. Meanwhile, Zara has a pack of four clips for $17.90 to play with for fun, eye-catching hair looks. Prefer a headband? Check out this style with a link design from Alexandre de Paris, which is available for $74 on Shopbop.
If you're ready to add some new pieces into your accessory collection, there's really no going wrong with tortoiseshell. Continue on to begin shopping what's likely to become a trend that'll only continue to grow as fall inches closer and closer.