Tom Ford's New Skincare Line Is Officially Here — & It's Just As Luxe As You'd Expect
Courtesy of Tom Ford Beauty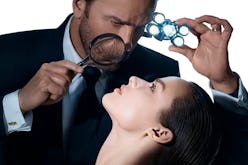 "I never believed in the power of crèmes and serums. Until now," begins a quote from Tom Ford himself on Tom Ford Beauty's website. The opinion-altering skincare products in question? Tom Ford Research, the new science-based skincare line from Tom Ford — which is now officially available online as of Aug. 12. "I created Tom Ford Research to merge high-performance, scientific skin care with a truly luxurious delivery system. Working closely with a team of scientists, using new research, I have developed high-potency formulations that work," Ford continued. "This is advanced skin science for the 21st century that helps you put your best face forward."
Following the Tom Ford Research announcement earlier this year, the collection's arrival is sure to please fans — as are the potent, powerful products. The Aug. launch ushers in two foundational building blocks: the $450 Tom Ford Research Crème Concentrate and the $350 Tom Ford Research Serum Concentrate. In true Tom Ford Beauty fashion, the aesthetic of the new line is clean, stylish, and completely unisex. ("My vision is to merge breakthrough skin science with true luxury, to create transformative skin care regardless of skin type or gender," reads a quote from Ford in a press email.)
Caffeine, an established skincare superhero, takes center stage in the launch — though in forms you probably won't recognize. Although Tom Ford Research's products do contain good, old-fashioned caffeine, included all by itself, the new line also gets a caffeinated boost from the rare white porcelain cacao and Japanese green tea Gyokuro plants. (Both ingredients also have an added bonus of infusing skin with antioxidants, thus reducing the chance of free radical-caused skin damage.)
And it seems like the brand's rigorous research is going to pay off for shoppers. In one consumer perception study on the Tom Ford Research Serum Concentrate, 92 percent of the men and women polled said their skin felt hydrated immediately, and 96 percent said it felt softer and smoother after just one week. In a study on the Tom Ford Research Crème Concentrate, a whopping 99 percent of users replied that their previously irritated or stressed skin felt soothed after one week.
Ready to try out the new Tom Ford Research line for yourself, though? You can order both new skincare products, listed below, on TomFord.com.