Tom Ford Beauty Created A Whole New Collection Of Summer-Proof Makeup — & It's Stunning
Olivier Degoulange/Shutterstock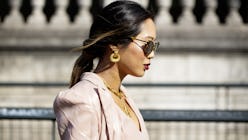 Recently, makeup has become so much less of a seasonal thing. However, there's still one unspoken, weather-dependent rule beauty fans usually abide by: Waterproof mascara is a must during summer. This has less to do with color palettes, and more to do with sweat (and the humidity that causes it). Though as beauty fans trade out their winter mascaras for one that won't smudge, flake, or run, Tom Ford Beauty's Emotionproof collection is here to ask — is that enough? Or, should makeup enthusiasts invest in an entire face of waterproof makeup during the warmer months, as well?
It seems like Tom Ford Beauty has the answer, though the new collection isn't advertised as being a summer problem-solver upon first glance. On Tom Ford Beauty's website, the Emotionproof collection — which dropped at the beginning of May — features a model with two tears running down her cheeks and a perfect, non-runny face of makeup still in place. It's an alluring idea for anyone that's ever accidentally teared up while wearing decidedly non-waterproof makeup; why stop at just keeping your mascara in place, anyway? If a waterproof formula can keep your look intact during emotional times, it may also be the key to summer-proofing your makeup routine.
And while the new $46 Tom Ford Beauty Emotionproof Mascara is advertised as waterproof (and "drama-free"), so are the other three pieces in the collection: the $54 Emotionproof Concealer, $43 Emotionproof Eyeliner, and $46 Emotionproof Eye Color. Put together, the new Emotionproof collection is your key to long-wearing eye looks — regardless of any muggy, rainy weather that comes your way.
And this is Tom Ford Beauty, so you have plenty of luxe options when it comes to the eyeliner and eye colors, too. The creamy eyeshadow pot comes in 10 relatively neutral shades (though the color "Starmaker" packs a shimmery punch), while the liner is available in 12 shades. Which, by the way, aren't all variations on black and brown; Tom Ford Beauty is fully embracing 2019's colorful eyeliner trend.
The new Emotionproof collection is available on Tom Ford Beauty's website and at select retailers such as Sephora. Ahead, all four new pieces to snag from the collection before it gets too humid outside.