Thousands Of Reviewers Say These 43 Products On Amazon Are Miracle Workers
Amazon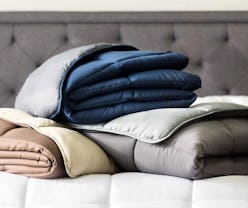 Years ago, you had three options when it came to shopping: You could trust the commercial, you could get a recommendation from a friend, or you could pick something off the shelf and hope for the best. Now, there are countless brilliant products on Amazon with thousands of reviews, and it's that same buyer feedback that's made modern-day shopping so much simpler.
In short, people are extremely excited about these miracle products for a reason: They've worked for them. Perhaps these reviewers took a chance on their purchases before the items got popular, or maybe they saw the hundreds of high ratings and just couldn't resist. Either way, these internet strangers took time out of their days to leave five stars and a comment — and because of them, it's extraordinarily easy to differentiate the time-wasting buys from the life-improving ones.
Unfortunately, Amazon currently does not have a feature that allows the buyer to sort by number of reviews — but that shouldn't stop you from perusing the best of the best, so I've done the heavy lifting for you. According to buyers, these 45 products are worthy of their high ratings, and all of them have a shockingly large number of great reviews to prove it.