This Limited Edition Apple Watch Bracelet From LAGOS Is The Ultimate Upgrade — & Your Purchase Supports A Great Cause
LAGOS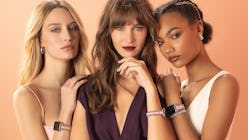 As we enter the month of October, we've found ourselves reaching for the things that make us feel our best — donating to a cause we care about, re-reading our favorite books, or reaching for accessories that keep us grounded and focused, like a signature watch. After all, our current world is full of surprises, and it's never been more important to find ways to make each day enjoyable.
Teaming up with LAGOS for Breast Cancer Awareness Month, we're excited to share the brand's exclusive new fine jewelry bracelet for the Apple Watch. Elegant, functional, and for a good cause, this baby-pink bracelet blends classic elements with modern details to transform the Apple Watch into a statement accessory. Plus, 20% of each bracelet sale will be donated to the Breast Cancer Research Foundation (the largest private funder of breast cancer research across the globe) to help aid research in key focus areas like treatment, prevention, and survivorship.
The exclusive release is personal to the brand's founder and Creative Director, Steven Lagos. "Breast cancer is something that has impacted so many of those close to me," he shares.
"It became obvious that we could do something special that could potentially benefit so many. We support those that are fighting this disease, we support the survivors, and we will never give up on finding a cure." — Steven Lagos
The perfect memento to benefit an important cause, LAGOS' exclusive bracelet is a stylish way to keep you organized and on top of the moment. It features a sophisticated ceramic band complemented by the brand's signature Caviar beading, which can be personalized with complimentary engraving on LAGOS.com. Pair it with a simple jeans-and-tee look for a day at home, or your favorite athleisure set before heading out — this is an elevated upgrade you can truly feel good about.