This Lightweight Puffer Jacket Has Over 1,200 5-Star Reviews
SOURCE: Nordstrom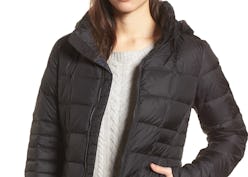 If you've ever broken a sweat in 20-degree weather, chances are you know how crucial it is to find a warm jacket that's lightweight enough to wear over several layers without giving you heatstroke. And if you, like many others who know the misery of sweating profusely under a coat, are searching for a solution to this problem, this might be the perfect lightweight puffer jacket that will keep you warm, and not wet: Nordstrom shoppers have discovered The North Face 'Metropolis II' Hooded Water Resistant Down Parka.
Judging from the product description alone, you might not guess that this is the type of coat that would work well in the cold-but-sweaty situation. But sitting just below the product itself are 1,200 people who gave this puffer a 5-star review. Overall, it has close to 1,800 reviews with an average rating of 4.5 stars.
Along with the perfect weightlessness of the parka, several shoppers also mentioned that they love how nonrestrictive the coat is. Reviewers say the coat is comfortable, fits well, and it allows them to wear thick layers underneath without feeling too tight.
The parka is filled with 550-fill power goose down, has a removable snap button hood, and is machine washable. It also has the added benefit of being water-repellant, which is obviously a plus. The coat is only available in black at Nordstrom, but The North Face's website offers six additional colors. Considering puffer jackets from other popular brands can run well into the thousands (one Moncler parka on Nordstrom costs $2,050), this option from The North Face is a steal at $289.
If you're in the market for a puffer coat this season, ahead are 10 more highly-rated puffer jackets you can shop on Nordstrom before the cold weather officially starts.