This Unexpected French-Girl Style Trend Is SO Practical
Pixelformula/SIPA/Shutterstock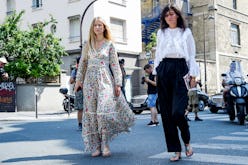 There's no dress code when sitting front row at a fashion show, but industry insiders take fashion week style very seriously. When walking into a show means being mobbed by street style photographers only to enter a room of peers sure to bring their outfit A-game, you can bet editors and influencers consider every piece they put on from head to toe. But, leave it to the team from Vogue Paris to exemplify the effortlessness associated with Parisian women, by opting for a french editor style trend that bucked the over-the-top dressing you often see in street style photos. Sitting front row, editor-in-chief Emmanuelle Alt and her editorial team all decided to forego heels, and instead opted for practical heel-less gladiator sandals and ballet flats.
Regardless of the actual amount of effort that France's top editors put into assembling their fashion week outfits, there is a certain ease with their utilitarian choices. While some top editors and Instagram stars may only have a few cobblestones to hop over between their car and a fashion show's entrance, many show-goers log miles of walking and subway rides to make it back and forth across town in order to take in every runway. This makes comfortable shoes a necessary reality, though they may buck with a traditional definition of "dressing up."
One self-proclaimed tenant of french-girl style is the ability to take an outfit from day-to-night with minimal effort. These Parisian trendsetters have taken this proclamation to heart, opting for footwear that is surprisingly simple, though they have every reason to go all out. They could show off to their peers, but they're confident enough in their style that they don't need to.
With this season's proliferation of flip-flops splashed across runways in New York, London, and Milan, heels are sharing space with a style that was once relegated to the beach. While Paris' top editors have always helped to set and propel the coming trends, in the last few years, the direction of choice is less about outlandish look-at-me fashion, and more about a refined way of dressing that while polished puts practicality first. This is one Parisian trend you'll want to try out ASAP, your feet will thank you. Shop comfortably chic footwear below.