This Street Style Trend Will Be Everywhere In The Next 30 Days
Daniel Zuchnik/Getty Images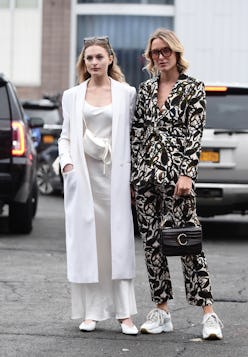 You want to start the new decade on a style high note, and with another fashion month less than 30 days away, there's about to be a plenty of inspiration inside and outside the shows to help kick things off. On the runway, you'll get a sense of what's to come later, once the clothes are finally in stores. But outside the venues, 2020's biggest street style trends will offer up the styling techniques that you can employ right now — before they become mainstream.
With each new city in the fashion month lineup, you'll get a bit more insight into exactly what is exciting influencers right now. "There is definitely a different personality in each city, often reflective of the designers showing," Chloe King, fashion office and digital fashion lead at Bergdorf Goodman, tells TZR. "New York tends to have the most miserable weather in February, so I think people have functionality in mind." According to King, London is all about experimenting with quirkier designers like JW Anderson and Gareth Pugh, Milan's milder temperatures make glamour and sensuality a priority, and closing the month, Paris brings out everyone's creativity — King refers to it as capita- F-fashion. But, before all of that, attendees are busy planning and packing what you'll see in every imminent street style gallery.
To get ahead of it all TZR turned to the experts — fashion directors, editors, influencers, and stylists — to hear their predictions for the biggest trends to dominate fashion month street style. That way, you can start your shopping now, and then simply add to your cart as the month progresses.
The 2020 Street Style Trend: Comfortable Chic
Good news: Influencers are re-committing to easy dressing this season. "I think everyone has been finding that comfortable street style, like sweatshirts, sneakers, and oversized suiting, can be fashionable and perfectly effortless," says influencer Christie Tyler. "I'm really looking forward to honing in on that this fashion month, and I'm sure my feet will be extremely happy about it, too."
The 2020 Street Style Trend: Embracing Vintage
As sustainability becomes an increasingly buzzy topic in the industry, many insiders are seeking out ways to dress more thoughtfully. "It's been predicted that fashion will be circular in 2020, and I think we will see past season items from luxury resale sites and street style stars being worn again," says stylist Sissy-Sainte Marie. "I'd love to see some old Céline, old Jacquemus, and old Lemaire getting more mileage on the streets again." Adds King, "What's more chic than wearing your favorite piece again and again?"
The 2020 Street Style Trend: The Philo-Philes
After Pheobe Philo's departure from Céline, a crop of young designers have emerged to fulfill the desire for sleek, sophisticated minimalism. At the top of the trend list are Daniel Lee at Bottega Veneta and Peter Do. "I think that Bottega Veneta will still remain extremely prominent in this season's street style, though I've seen that Peter Do has been popping up more and more," Tyler explains. "His designs are incredible, timeless, yet unique and look amazing in photographs."
The 2020 Street Style Trend: Oversized Bags
When it comes to bag trends, the past few seasons have been all about the micro look, championed by Jacquemus' itty-bitty creations. But in 2020, expect to see large bags on the arms of show attendees. "I believe we have evolved from mini bags and completely moved to the opposite [side of the] spectrum, bigger is better," Tyler explains. This should make for a welcome change for those who find themselves always needed an extra tote.
The 2020 Street Style Trend: Punchy Hues
On the Spring/Summer 2020 runways there was a wide assortment of sherbet hues, all of which will make their way into street style looks. "Purple and pistachio were all over the runway, not the easiest colors to wear, but we shall see who is daring enough to try," Jessica Minkoff, fashion content editor for Bergdorf Goodman, tells TZR. Try adding a single pop of color to an all-black look to ease into things, or mix and match hues for a trendier approach. And if green and purple aren't your thing, take a cue from Shopbop's fashion director Caroline Maguire who predicts a return of teals and blues styled with neutrals.
The 2020 Street Style Trend: Head-To-Toe Knitwear
This winter's all-over leather has some cozy competition this season in the form of cozy knit sets. "Leather and shearling are always staples during the fall and winter season, but I also think that knitwear from head-to-toe will be quite prominent in 2020," Minkoff notes. If full-on coordination isn't your thing, Maguire suggests trying layered knits in coordinated colors instead.
The 2020 Street Style Trend: Loafers
Ready to swap out your sneakers and boots for something new? Expect loafers to be a street style favorite. "I loved all the loafers on the spring runways, I'll be wearing mine with a slouchy sock," King tells TZR. Adding a cozy sock into the mix can keep you from suffering cold toes while temps are low.