This Brand-New Eyewear Label Offers Chic Luxury Sunglasses (& They're Surprisingly Affordable)
Féroce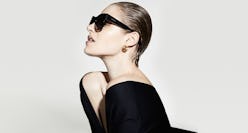 "I always felt as though when it came time to choosing sunglasses I had to choose between quality, design and fit, and price," Alexandra Baker, founder of the new eyewear label Féroce, tells The Zoe Report over email. "All the fast fashion and accessible price points out there are either offering novelty ('I want to wear you once' type frames) or felt extremely mass market and generic. Personally I don't shop like that — I like to have fewer, special pieces."
And if that rings true for you as well, you're probably going to fall in love with Féroce. Unveiled May 1, the all-new, direct-to-consumer sunglasses brand is affordable, luxurious, and fiercely chic — it just so happens that the very French word féroce translates to 'fierce' in English. "Growing up with a half French upbringing, most of the women around me, including my mother, always had an effortlessly put-together look. It could be jeans and a T-shirt, but there was always an item or accessory that added some level of style and elegance," Baker explains. "I wanted more people to have access to that luxury and realized no one was designing luxury eyewear for the modern day women on the go."
At prices that are accessible to the modern shopper, too. The first Féroce eyewear drop includes six different frames in multiple colorways, each retailing at just $110 per frame. "It has taken almost two years to work on getting the pricing right. When I first started the concept, I had so many ideas about packaging and design that I soon learned would all add a tremendous cost to the final price," Baker notes; adding that trimming any additional costs allowed the Féroce team to solely focus on the eyewear.
"I think focus is also really important — we have started with six styles, all only acetate frames. This enabled us to understand the ins and outs of working with these materials and how we could engineer them to bring forward the best possible product," Baker says. Baker — who's also the current COO of the luxury designer boutique Fivestory in New York — noted that working with acetate eyewear is a family business; her father had worked in the eyewear industry for 30 years. Baker says he'd "learned how to construct a pair of glasses from just a saw and a block of acetate", which "would be able to assist me in making this idea come to life."
And Féroce isn't cutting any corners. Each new frame is made from Mazzucchelli acetate (a family-run Italian manufactuerer) and feature gold details (like interior hinges, wire cores, and the Féroce logo), as well as polarized lenses — which "remove reflective glare from such things as water, sea, lake, or pool, horizontal metallic surfaces such as the bonnet of a car, ice, and snow," according to Baker. "For sunglasses, a polarized lens has a greater effect than anti-reflective coatings, as it relaxes the eyes."
With this inaugural launch conquered, what's the next step for the new brand? "We have no intention of pumping out seasonal collections or constantly introducing new frames," Baker notes. Instead, Féroce aims to be a timeless addition to your wardrobe — and one to be worn for seasons. "We want to make luxury eyewear more accessible with all standards met. This way the pieces become timeless pieces that can last for years to come, not just disposable after pairing back to one outfit."
Find your Féroce frames on the brand's website, or explore the first collection below.