These 33 Things Are Trending On Amazon Because They Go With Everything
Kirstin Sinclair/Getty Images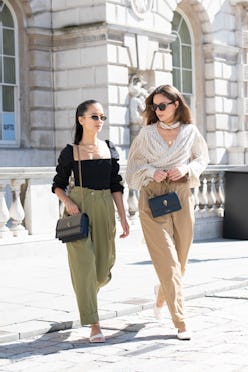 Even when staring into a closet stuffed with clothes, shoes, and accessories, it's still possible to feel as though you have absolutely nothing to wear. That's because there's more to building a functional wardrobe than simply buying lots of clothes; all the bold, trendy pieces in the world won't get worn unless you have the right staples to pair them with. Luckily, rounding out your collection of timeless wardrobe building blocks doesn't have to be a particularly time-consuming or expensive process. In fact, the 34 pieces on this list are trending on Amazon because they go with everything, they're classically stylish, and their quality far surpasses what you'd expect for the price.
Besides their competitive pricing and unrivaled selection of everything from mainstream athleisure-wear to small-batch, artisan-crafted accessories, there are a few other key reasons that make shopping for clothes on Amazon such a seamless experience. First, there's the fact that most items can be easily returned for free, not to mention the seamless, one-click checkout experience. Even better, there's that handy two-day shipping for Prime members, as well as the network of brutally honest reviewers providing insight on how an item will look, fit, and feel. Last, there's the new, cool Prime Wardrobe feature (included with any Prime membership), which allows you to test drive eligible pieces for a week-long period before committing to buying them. If you don't wind up loving what you ordered, returns are free; you only get charged for what you keep.
So go ahead and get shopping — with the 34 timeless pieces on this list, you'll be putting together gorgeous new outfits in no time.