Claire Foy's Golden Globes After-Party Look Just Stole All The Thunder
Rich Fury/Getty Images Entertainment/Getty Images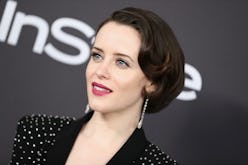 While award show red carpets deliver all the aspirational looks one could ask for, it's the post-show soirées that bring the ones you can make reality. And this was certainly evident at the 2019 Golden Globes after-parties, where the stars not only let loose, but donned the ensembles that would allow them to do so with style.
Yes, celebrities like Claire Foy, Emily Blunt, and Regina King let their hair down so to speak via post-show ensembles that spoke to all the trends of the year. Amidst the mingling, award-gripping, and champagne drinking, were some truly dynamic looks including Lea Michele's tangerine gown, Christina Ricci's navy wrap dress, and Michelle Monaghan's all-black getup. It was definitely a free-for-all when it came to color and daring silhouettes.
That said, arguably the most memorable after-party outfit of the night came from none other than The Queen's star, Foy. Between the beaded pantsuit, plunging neckline, and teardrop earrings, her look was one to emulate in the new year.
Not to be outdone was the always-stylish Blunt, who arrived at the InStyle and Warner Bros. party in flawless soft pink maxi-dress that featured a Victorian collar and was reminiscent of the gown she wore just hours earlier.
Another notable look was from the stunning King, who wore an incredible off-the-shoulder gold gown that made her look every bit the statuesque goddess. Her beauty look was something to behold as well, as she donned soft waves and natural, radiant makeup that was totally head-turning (or was that the Golden Globe she was clutching?).
Now, that's not to say there weren't plenty other looks that served up plenty of new year inspo. Many celebs pulled some truly epic quick changes and delivered style encores that will give you the perfect second wind of the night. The beauty of these looks is that they're the ones you can actually envision yourself stepping out in in the foreseeable future (since gown-wearing occasions are few and far in-between).
If you're still reeling from the red carpet magic and have a hankering for more glam, you're in luck. Ahead, check out all the stylish moments from the Golden Globes after-parties we'll be recreating all year long. From pantsuits to ruffled maxi dresses, 2019 just got the style jumpstart everyone's been waiting for. Thank you, award season, for saving everyone from the post-holiday slump.
Claire Foy
Gemma Chan
Emily Blunt And John Krasinski
Regina King
Laverne Cox
Constance Wu
Camilla Belle
Jamie Chung
Lea Michele
Christina Ricci
Michelle Monaghan
Andie MacDowell
Danielle Macdonald
Kaley Cuoco
Hilary Duff
Rachel Zoe