These Celebrity Instas Deliver All The BTS Magic From The Golden Globes
@naivashaintl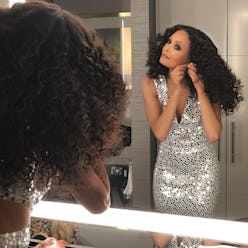 At this point, most of you have meticulously combed through all the red-carpet photos from this year's Golden Globes. But, what about the behind-the-scenes action? For this award show gold, one turns to, that's right, social media. In particular, celebrity Instagrams hold the Golden Globe moments you probably missed.
Starting from the pre-show prep sessions where the stars got styled head to toe and ending with the epic after-parties where they metaphorically let all the hair down, there's no shortage of fodder for those of you voracious for Golden Globes moments.
The thing is, every award show is chock-full of perfect posing and eloquent speeches — which is all well and good (and much appreciated). But, sometimes, one wants to see more unscripted snapshots of these epic evenings, as they prove that even the most flawless and poised celebrity (here's looking at you, Julia Roberts), has fun, unfiltered, human moments like everyone else. These moments can include sweet spousal pictures or shots of famous friends celebrating a win. For those loving all the beauty and fashion that comes with awards season, behind-the-scenes glam videos and imagery from celebrities and the stylists responsible for their looks is the stuff of dreams. Either way, candid shots are definitely the way to go.
Luckily, celebrities are more than willing to reveal their humanness and have everyone along for the ride as they navigate one of the biggest nights in entertainment. A-listers like Thandie Newton, Rachel Brosnahan, and Taraji P. Henson took to Insta to capture some seriously sweet and priceless moments. Newton posted a cute selfie with her hubby on the ride to the venue. Henson took to Insta for a celebratory post with big winner Regina King. Heck, even Brosnahan captured a moment with her glam squad pre-event to acknowledge their hard work in making her look every bit the movie star. All in all, it seems the real magic was in the more unplanned moments of the evening. And you know you're here for it.
To keep the Golden Globes party going a little longer, ahead, check out the Insta moments you didn't see during the three-hour event. Yes, these include the prep sessions, mid-show action, and the epic after-parties that carried on well into the early morning. If you look close and long enough, you might feel like you're actually there. Party on.