Zara Just Launched A Cool New Collection — & It's Totally Customizable
Courtesy of Zara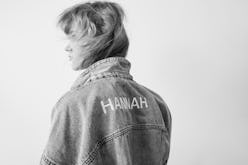 Naturally, you want your wardrobe to be a reflection of you and only you. And despite how painstakingly you curate your closet, it's much easier said than done to ensure your aesthetic is entirely unique. After all, you and all your style savvy friends likely shop the same stores each season. Luckily, the just-landed Zara Edited collection is making your dreams of custom clothing come true by offering up personalized embroidery on the staple pieces you swear by day in and day out. And these aren't your standard preppy monograms on polo shirts — they'll help you stand out in style.
Zara may be known for its high street styles that help you get in on the season's biggest trends for less, but the beloved store's latest venture presents a departure from its usual model. The brand's new Edited collection will allow shoppers to, well, edit the pieces they shop by adding embroidery of their choice to make each item completely unique. A range of fonts, thread colors, and embroidery placement will be available on women's, men's, and children's pieces, including jeans, denim jackets and vests, shorts, and sweatshirts. Oh, and each style also happens to be part of Zara's Join Life selection of sustainable cotton pieces that feature recycled or ecologically grown cotton. Is this the future of fashion?
You can now shop the Edited Collection online (as long as you're in the United States, United Kingdom, Spain, Netherlands, Italy, or China) and in-store at Zara's SoHo location. And true to Zara's high street roots, the prices on these personalized styles still won't break the bank. Score a custom pair of jeans in your favorite style — whether it be some vintage skinnies or classic straight leg denim for $39.90 or a chic culotte silhouette for only $29.90 — then spice them up with your name or a one-word mantra embroidered at the hip pocket, waistband, or back.
Upgrade closet must-haves like a cozy cotton sweatshirt with Zara's Edited zip-up slouchy style, $39.90, or chic voluminous sleeve silhouette, $29.90, both of which can be personalized with embroidery in your choice of font and color across the back or on the front. Go ahead and give your old, worn sweatshirt the boot. Prefer to layer with denim? Then pick Edited's oversized denim jacket, $69.90, which will add instant cool factor to any outfit thanks to it's slouchy, boyfriend-like silhouette and some custom embroidery (go for bold red or bright neon for extra edge).
Ready to change the way you shop for staple pieces? Start scrolling to snag Zara's customizable clothing, below.