Salvatore Ferragamo Made A Very Luxurious Version Of The Basket Bag Just In Time For Summer
The Webster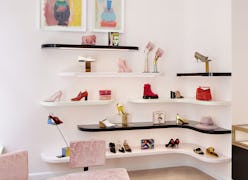 So you've got your breezy, shoulder-bearing tops, slinky skirts, and cut-off denim curated and ready for the season ahead, but have you taken a moment to ensure your warm-weather accessory game is on lock? The right finishing touches can be crucial, taking a simple ensemble formed by staple pieces into seriously-stunning territory. They can also be the easiest way to work seasonal trends into a look. Or, they can be both. The Webster's Salvatore Ferragamo capsule may have exactly what you want to complete your summer wardrobe, and just one look will be all the convincing you'll need.
When you're looking for the luxe add-ons that'll act as the pieces that pull your wardrobe together for a fresh season, where do you go? Perhaps to a department store — but more often than not, it's safe to assume you and your fellow style-savvy shoppers head to expertly curated boutiques that put endless hours into collecting exactly what you're looking for at any given moment. Miami-born retailer The Webster is one such place, and with storefronts in Miami Beach, Texas, California, and New York, it's no surprise the brand has its finger on the pulse of what people really want (no matter where you are).
And aside from its impeccably-picked collection of clothes, acccessories, and home goods, The Webster also boasts exclusive collaborations with brands like STAUD, Fausto Puglisi and LHD — and now the brand has teamed up with iconic Italian house Salvatore Ferragamo to bring you the luxe accessories you need for summer.
The five-piece capsule is completely exclusive to The Webster, so you'll want to head to the brand's site quickly to snag one of the on-trend pieces that Ferragamo's women's creative director Paul Andrew has dreamt up for the limited-edition launch. Included in the range are two summer-ready shoes and three modern-yet-classic handbags — all as chic as you'd expect from the luxury label.
One item you'll probably notice right away? The Gancini Wicker Bucket bag, which may be the most luxe take on the basket bag trend yet. The $2,300 handbag features expertly-woven wicker with a silky-smooth leather lid and trim in the most luscious shade of cherry red, and seems to perfectly walk the line between brazen and refined. Wear it with brightly-colored separates to embrace a maximalist vibe. Its smaller counterpart, the Small Margot Bag, $1,890, offers the same overall vibe, with a leather flap closure and golden Ferragamo logo clasp.
Finish off your summer looks with a pair of slides from the exclusive capsule — go big and bold with the red leather and gold textured block heel Lassa Mule Sandal, $730, or keep things neutral (but not at all boring) with the lace-up Brown Mirror Heel Mule Slipper Shoe, $830. Either could easily pair with everything from dresses and skirts to casual denim, so they're well worth investing in for the season.
As if you needed any more convincing that you should scoop up something luxe for your summer wardrobe, consider The Webster and Salvatore Ferragamo's seasonally-appropriate capsule the final push you needed. Keep scrolling to shop it, below.